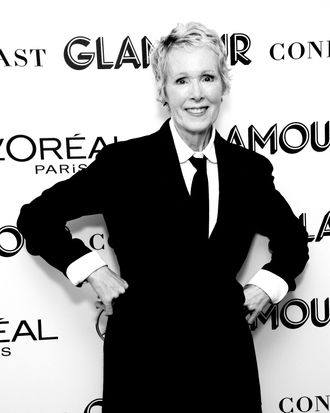 E. Jean Carroll.
Photo: Astrid Stawiarz/Getty Images for Glamour
The U.S. Justice Department has reportedly intervened in a rape allegation against President Donald Trump, an allegation stemming from an incident that predates his term in office. According to the New York Times, attorneys with the DOJ filed a motion to move a defamation suit brought by writer E. Jean Carroll from state to federal court on Tuesday, allowing them to take over as his lawyers in the dispute.
Carroll, formerly an advice columnist at Elle, wrote in her 2019 memoir (an excerpt of which was first published in New York Magazine) that Trump raped her in the New York City department store Bergdorf Goodman in the mid-1990s. Carroll says Trump asked for her help picking out gifts after the pair ran into each other, but then accosted her in a dressing room. He put "his penis halfway — or completely, I'm not certain — inside me," she wrote.
Carroll is one of more than two dozen women who have accused Trump of sexual misconduct. Still, Trump denied Carroll's claims, saying "she's not my type," and, "it never happened." Trump has also denied ever meeting Carroll, although they were photographed together in the late 1980s, and two women who knew both parties have corroborated her story.
In November 2019, Carroll filed a defamation lawsuit against Trump, arguing that her career suffered when he branded her a liar. (And indeed, Elle let Carroll go in February 2020, a decision she says the magazine made because Trump "dragged [her] through the mud.") Her legal team says Trump's has been trying to stall the suit ever since.
Now, it appears the Justice Department might be trying to kill it entirely by asking a judge to "substitute the United States for President Trump as defendant." Per CNN, the federal government can't be sued for defamation, which is why the DOJ is claiming that Trump was acting in his official capacity when he responded to the allegations. The documents reportedly cite the Federal Tort Claims Act, which extends immunity to federal officials from allegations of libel, slander, and misrepresentation. According to the New York Times, "it has rarely, if ever, been used to protect a president."
Meanwhile, Carroll's attorney, Roberta Kaplan, called the DOJ's argument "shocking" and offensive.
"Trump's effort to wield the power of the U.S. government to evade responsibility for his private misconduct is without precedent, and shows even more starkly how far he is willing to go to prevent the truth from coming out," Kaplan said. For her part, Carroll said she and Kaplan "are ready," and advised the president to "BRING IT!"