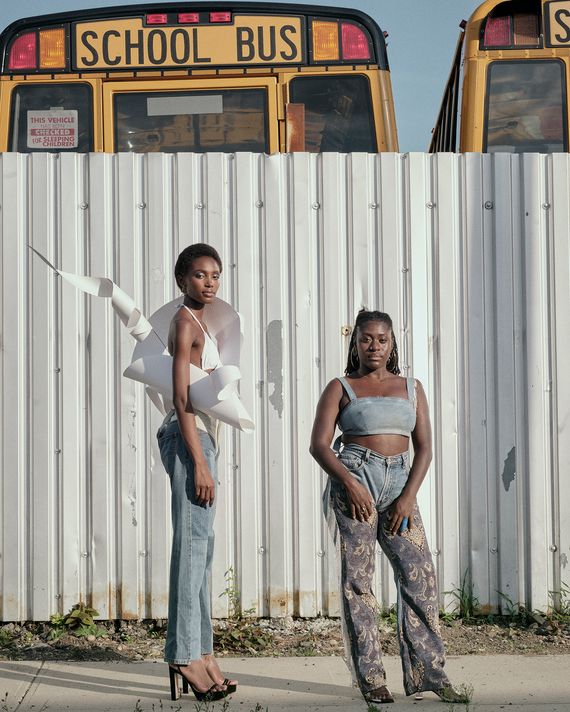 Bola wears
Alexandre Birman
shoes.
Photo: Stephanie Mei-Ling
When New York's strict lockdown went into effect in early March, Karina Sharif started making clothes and posting the results on Instagram. Tagged #COVIDSEWING, the carousel-style posts showcased portraits and videos of Sharif in her Crown Heights studio apartment draping, cutting, and sewing garments and modeling them herself.
I came across one of the posts in late April and was instantly obsessed. Sharif was standing in the middle of an art- and plant-filled room wearing a two-piece look in metallic cobalt. Who was this cool, talented Black woman with such a cute apartment?
"I do so many things. I'm a fine artist, stylist, and designer," says Sharif. Working in multiple mediums has taught her she needs room for all her passions in order to thrive. She has an upcycled denim brand, We Are LOV'D, and she crafts sleek, dramatic, wearable sculptures out of paper. Sustainability is a big part of her practice. "I don't like feeling like, What person was enslaved to make this thing? or How was this planet impacted in order for me to wear these jeans?," she says. "Jeans take up a huge amount of resources. It makes me feel good to wear something that's funky and slow fashion, because I know I'm not being horrible to the planet."
Sharif sees herself as someone with a maximalist aesthetic but a minimalist approach to construction: "My paperwear expresses shape, body, and emotion out of a minimal material. Similarly, my denim uses upcycling to bring color and a range of materials to an everyday silhouette. I like it when my work feels approachable yet still stands out from the crowd." Her customer, she explains, is "someone who values comfort but loves a bit of drama. Someone who appreciates the power of art in the home as a source of daily inspiration."
Sharif was raised in a predominantly white community in Boston by her mother, a first-generation Jamaican American. Her mother was a journalist who wrote for the business section of the Boston Globe, focusing on nonunionized workers. After school, Sharif would often wander around the Globe office, and watching her mother prove herself as a "badass career woman" in an industry dominated by white men was hugely formative for her. It taught her how hard it is to be "the only one" in a professional setting.
She discovered her love of sewing as a junior in high school, when wearing low-rise jeans was the trend. Struggling to find a pair that would fit her butt, she started attaching denim scraps to the top of her jeans for a more full-coverage version of the look. The joy she found in making clothes was so intoxicating that it prompted her to attend Pratt Institute to study fashion design.
But when she graduated at the start of the 2008 recession, few jobs were available, and she had to make do with pattern work. She found herself disheartened by the realities of an industry she had dreamed of joining. "I took a step back and decided, if I was going to continue to participate, I would have to choose a path that I could feel good about," says Sharif. As a Black creative, she adds, it's important to step away sometimes and give yourself room to gather, think, and process.
So she started working as a stylist, which gave her the opportunity to move a little more freely through the industry, make connections, and maintain control over when and how she designs. Styling is what prompted her to consider sustainability. It has been difficult, she says, "seeing the amount of waste in the industry and knowing how things should be made, because I'm a designer … It's forced me to find other ways to enjoy fashion."
That's where her paperwear comes in. She was styling a test-shoot project when she realized that she missed working with her hands, so she decided to ditch the clothes and go with an experimental approach. Using newspaper and backdrop paper, she created fun, wearable sculptures, which turned into a visually striking project inspired by "Blackness, Black women, and the Black experience."
"The paper represents a visual of each woman that wears it. It is a piece of her story. When I use it, I usually interview the woman I'm working with so that I can have the words to go along with the piece," says Sharif. "Paper is one of the oldest mediums of communication, so it is important that I use that material when telling Black stories. Our stories have been told but have not always been told properly. This is a way of paying homage to our ancestors and the women whose stories we don't know or haven't heard."
Sharif is currently working on a new project that represents paper as armor or a protective piece on a Black woman's body. What drives her to keep making such intricate garments is the reaction of each woman she dresses: "The way [they] raise their heads and lift their eyes to meet their gaze as they looked in the mirror after I finish fitting and installing them in a custom paper design … There is always this expression of self-love and admiration that comes across their faces, and for me it is all about that moment right there."
While showing during New York Fashion Week remains a goal of hers, for now she's planning to present her collection in a gallery-style format featuring images, sculptures, audio recordings, and women wearing her pieces. Her path in fashion has been challenging, but Sharif says it has been rewarding to see her paper designs featured in Office magazine and her denim available for purchase in retail shops. She hopes her paperwear focused on Black women's stories can penetrate the industry. "The voices of Black females in the industry are incredible and valuable," she says. "Though they have not often been amplified, our voices always have been needed. It's important that we are highlighted now — and long after this time passes."