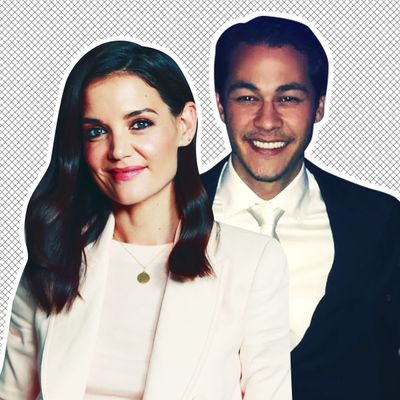 Katie Holmes and Emilio Vitolo, Jr.
Photo: Getty Images, @emiliovitolo/Instagram
Katie Holmes is dating pasta royalty, it seems. In pictures posted by the Daily Mail this week, the actress was spotted dining and furiously making out with Emilio Vitolo Jr., son of Emilio Vitolo Sr., owner of the Soho Italian restaurant Emilio's Ballato. You can see the pictures for yourself here, or you can imagine what they look like based on this Daily Mail photo caption: "Loving: Emilio gazed lovingly at Katie, while donning a beige newsboy hat and a v-neck shirt."
When he's not wearing newsboy caps and gazing lovingly at Katie, Emilio Jr. is a co-owner and chef at Emilio's Ballato, which Emilio Sr. bought back in the early '90s. The restaurant is a celebrity favorite, and its regular diners include Whoopi Goldberg, Justin Bieber, Lenny Kravitz, Billy Joel, and Rihanna. Additionally, per one Cut staffer: "Their pasta good af."
Emilio Jr. has also acted, appearing in shows like Royal Pains and Inside Amy Schumer. According to his Instagram, he's good friends with Sophie Turner and Joe Jonas, he has a cute little dog (name unknown), and, according to me, he looks like if Joseph Gordon-Levitt were a spicy, chiseled meatball.
Holmes and Vitolo were spotted together a little over a year after Holmes reportedly split from Jamie Foxx, whom she had dated since 2013. She and Foxx supposedly got together a year after Holmes separated from her husband, Tom Cruise, and were intensely secretive about their six-year relationship. (Foxx even walked out of an interview after being asked about Holmes.)
After the breakup, Foxx allegedly started dating Sela Vave, a singer who graduated from high school in 2018, and Holmes became a cashmere-bra trendsetter and a, uh, very enthusiastic supporter of #BidenHarris2020.
Anyway, congrats to the new couple. May they enjoy many nights of PDA and pasta together.