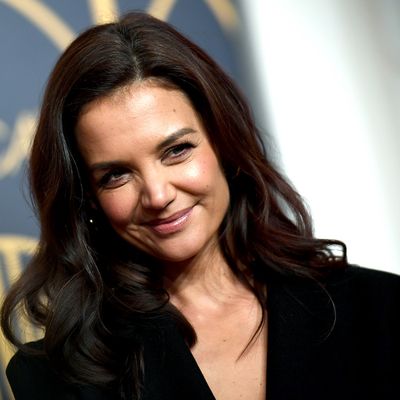 Drama is brewing.
Photo: picture alliance/dpa/picture alliance via Getty I
Mere days ago, we were pleased to report that Katie Holmes has been hooking up with sexy pasta scion Emilio Vitolo Jr. Rebounding from a longterm, intensely private relationship by furiously making out with some young, hot spaghetti royalty, all over town? Sounds fun, please go right ahead. Or so we thought. Now, new and messy details about the situation are emerging.
Until very recently, Vitolo — whose father owns Manhattan's celeb-beloved Italian restaurant, Emilio's Ballato — was engaged for about 18 months, the Daily Mail reports. And according to the tabloid, the 33-year-old broke up with his live-in fiancée, Rachel Emmons, via text, right around the time that photos of Holmes and Vitolo surfaced online.
"Up to this press coming out, Rachel had no idea what was going on," one of her friends allegedly told the Mail, adding that Emmons, 24, "devoted her life" to Vitolo for the roughly 3.5 years they were together. The pair even adopted a cute little dog, the Mail reports, and per its source: "They had concrete wedding plans in the works…now she [Emmons] is just left with bad press and forced to move home."
What's more, the Mail is also reporting that Holmes has known about Vitolo's engagement since they became "friendly" in October.
"Katie definitely knew Emilio had a fiancée and started something with him while he was very much living with his fiancée," a "source close to the actress" allegedly told the outlet. "Everyone is surprised by the way this romance happened and how open Katie is being about her new man," presumably given the fact that her marriage to Tom Cruise and her subsequent relationship with Jamie Foxx were both meticulously conducted outside the public eye. But according to this "insider," Katie is acting like "a teenage girl in love" precisely because Vitolo is "openly affectionate with her, left his fiancée to be with her and gives her something Jamie couldn't."
Objectively, dumping your betrothed in a text message does not sound like trust-inspiring behavior, despite the obvious appeal of PDA and pasta. This probably explains Emmons's friend's gloomy forecast for the whole affair: "He is a cheater, and this isn't a 'happy ending' story." Ominous, indeed.