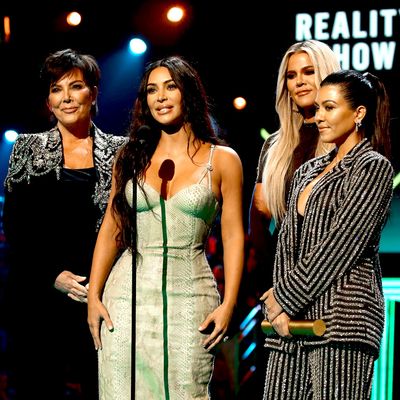 Good-bye.
Photo: Christopher Polk @POLKIMAGING/NBCU Photo Bank via Getty Images
After 14 years of manufacturing drama for public consumption, the Kardashians will end their eponymous reality-TV show next year. On Tuesday evening, Kim Kardashian West posted a statement to social media announcing that the family had made the "difficult decision … to say good-bye to Keeping Up With the Kardashians" after its 20th season, which will air in early 2021.
"We are beyond grateful to all of you who've watched us for all these years — through the good times, the bad times, the happiness, the tears, and the many relationships and children," it reads, alongside a very leopard-print poster from the show's earliest days. "We'll forever cherish the wonderful memories and countless people we've met along the way."
KUWTK premiered in 2007, when Kim was perhaps best known as Paris Hilton's assistant and closet-organizer. It has since jettisoned the entire family into an inconceivable stratosphere of fame: Kim is a billionaire who lives in a haunted mansion with her husband, rapper Kanye West, and presides over beauty and shapewear brands in addition to 14 gorgeous Friesian horses. Kylie Jenner, an actual child at the dawn of KUTWK, is now also, allegedly, a billionaire makeup mogul, while her sister Kendall has become a supermodel.
"This show made us who we are, and I will forever be in debt to everyone who played a role in shaping our careers and changing our lives forever," Kim acknowledged in the statement, adding, "Without Keeping Up With the Kardashians, I wouldn't be where I am today."
Still, despite the unhinged family fights and the cheating scandals and the partying and that time Khloé went to jail — and despite the 12 spinoff series Deadline says KUWTK spawned — ratings have been dropping at least since season 17. E! confirmed to Deadline that 2021 will mark the final act and thanked the Kardashians for "bravely … letting us into their daily lives" and their most "intimate moments."
Take comfort, though: There are still two seasons left to go, with the 19th to air on September 19 and the 20th to follow. And as we go on, we will always remember all the salad bowls they ate together.