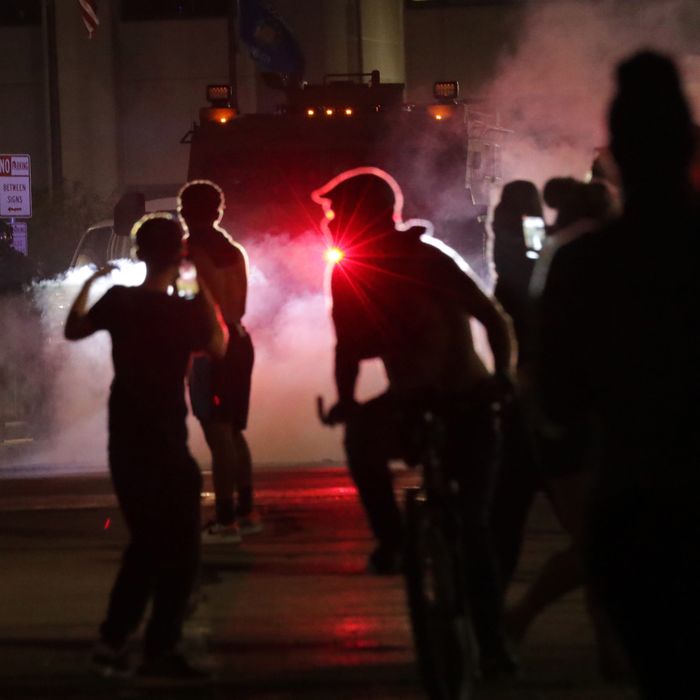 Following the police shooting of Jacob Blake, protests erupted in Kenosha, Wisconsin.
Photo: Mike De Sisti/Milwaukee Journal Sentinel-USA Today
New York Is Committed to Covering This Essential Moment
We've removed our paywall from this and other stories about police brutality and systemic racism. Consider becoming a subscriber to support our journalists.
On Sunday evening, a Wisconsin police officer fired more than half a dozen shots at point-blank range at a Black man as he was trying to enter a car where his three young sons were waiting. The man, identified as Jacob Blake, 29, was rushed to the hospital and has since stabilized, though he is currently paralyzed from the waist down.
The shooting occurred just after 5 p.m. on Sunday, when officers with the Kenosha Police Department were responding to a domestic incident in the 2800 block of 40th Street, the Kenosha News reports. The incident was captured in a graphic video that has been widely shared on social media: Two officers with their guns drawn can be seen trailing behind Blake as he rounds the front of a silver SUV, moving toward the driver's seat. But when he opens the car door, one of the officers grabs at Blake's shirt, and at least seven gunshots ring out. Then, a car horn blares — presumably, from the impact of Blake's head after he goes limp.
Witnesses say that Blake was unarmed, and had been trying to deescalate a verbal dispute between two women before officers arrived. (The bystander who filmed the encounter told NBC News that police were yelling at Blake to "drop the knife," though they did not see a knife on Blake's person, and added that Blake "wasn't being violent.") According to civil-rights attorney Ben Crump, who is representing the family, Blake's three sons — who are 3, 5, and, 8 — were seated in the back of the car that Blake was trying to enter.
"Blake was helping to deescalate a domestic incident when police drew their weapons and tasered him," the Blake family said through Crump. "As he was walking away to check on his children, police fired their weapons several times into his back at point-blank range. Blake's three sons were only a few feet away and witnessed police shoot their father."
Following the shooting, Blake was transported to Froedtert Hospital via Flight for Life, where he was admitted in serious condition, and later stabilized following surgery. However, on Tuesday morning, Blake's father, who's also named Jacob Blake, told the Chicago Sun-Times that his son is paralyzed from the waist down, and doctors are unsure if the injury will be permanent. Blake's father has since said that Blake — who is not facing arrest or charges, to public knowledge — is currently handcuffed to his hospital bed. "He can't go anywhere," he told the Sun-Times. "Why do you have him cuffed to the bed?"
The incident has sparked national protests against racist police brutality and the criminal-justice system at large, which seized the country's attention this summer after the death of George Floyd. Since the shooting, Kenosha residents have poured into the streets to protest the latest incident of racist policing, demanding justice for Blake. In response, Kenosha County has declared overnight curfews in an attempt to crack down on demonstrations and prevent property damage; Wisconsin governor Tony Evers has also activated the Wisconsin National Guard to assist local law enforcement. Those who have defied the order have faced confrontations with police in riot gear wielding beanbag rounds and tear gas, which they've deployed against protesters. Following Tuesday's night protest, three people were shot, two fatally, and a 17-year-old former cadet named Kyle Rittenhouse has been arrested and charged with first-degree intentional homicide.
The two officers involved in Blake's shooting have been placed on administrative leave. On Wednesday, Wisconsin officials identified the officer who shot Blake as Rusten Sheskey, 31, who's been on the force for seven years, the New York Times reports. With the assistance of the FBI, the Wisconsin Department of Justice is investigating the incident and will determine whether Sheskey will face charges.
On September 5, Crump posted a video of Blake, lying in his hospital bed. "Not only your life but your legs, something you need to move around and move forward in life, can be taken from you like this," Blake says. "It's nothing but pain. It hurts to breathe, it hurts to sleep, it hurts to move from side to side, it hurts to eat. Please, I'm telling you, change your lives out there, stick together," he added. "Make everything easier for our people out here, because there's so much time that has been wasted."
This post has been updated.