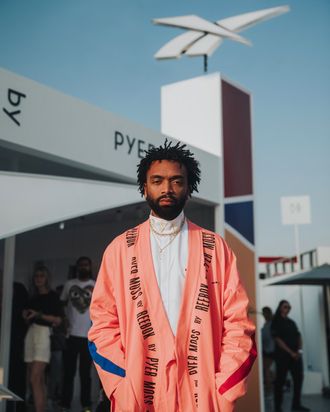 Photo: Courtesy of Reebok
Designer Kerby Jean-Raymond is a very busy man. In the month of September alone, he was named Menswear Designer of the Year by the CFDA and Designer of the Year by Harlem's Fashion Row. He launched a new platform with Kering to empower the next generation called "Your Friends in New York." His brand, Pyer Moss brought back Diddy's iconic "Vote or Die" T-shirt. And — and! — on Wednesday, Reebok announced that he's got a big new title at the brand: vice-president of creative direction.
"Kerby is a fashion visionary with a bold approach who has established himself as a leader and a passionate activist," said Reebok president Matt O'Toole in a statement. "We are incredibly excited about the impact he will have on Reebok from a design and brand purpose perspective and for him to bring his unique voice and direction to the Reebok brand more broadly."
For the past four years, Jean-Raymond has collaborated with the brand on Reebok by Pyer Moss, which includes sneakers and apparel, but this is his first official title at the company. In his new role, he will provide creative leadership across all design disciplines, and also have a strong involvement in the brand's 'Product with Purpose' program, which is a part of its United Against Racism commitment, launching in 2021.
In a post on Instagram, Jean-Raymond said that he's always wanted to be a creative director at a footwear brand, (as opposed to a fashion house, which has been the traditional path of his peers), and that the move was a way to "shake shit up a lil."
"I haven't had a job in nine years," he added, referring to the fact that he's been his own boss for a long time now. "So please get me a lunch box."
The first Reebok products under Jean-Raymond's creative direction will release in 2022.