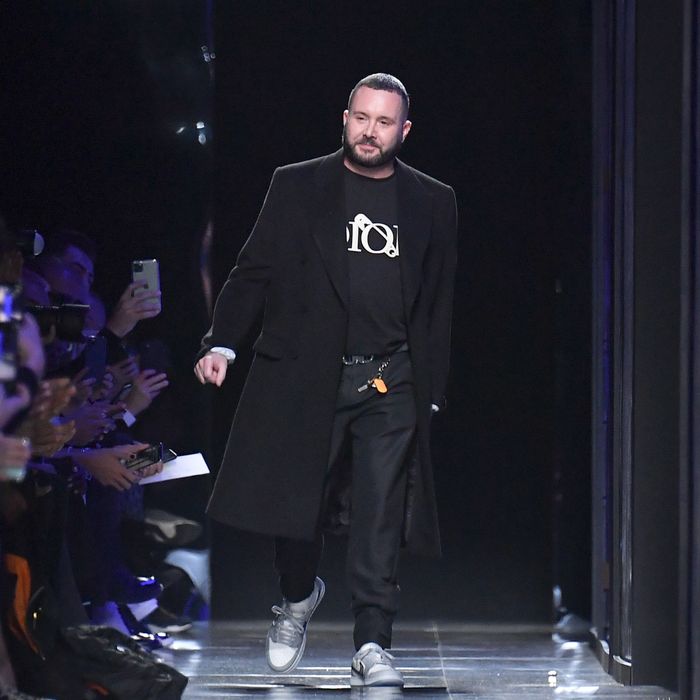 Photo: Stephane Cardinale/Corbis via Getty Images
On Wednesday morning, Fendi announced that Kim Jones will replace Karl Lagerfeld as the women's artistic director of the historic Italian brand, where Lagerfeld served for 54 years. It's a huge role to fill — Jones will not only be responsible for designing women's ready-to-wear, but also haute couture and fur collections.
The 46-year-old British designer got his start at Central Saint Martins, and had his own cult brand for a time. He went on to work at Louis Vuitton for seven years as the brand's menswear designer before he was appointed creative director of Dior Men's in 2018. At both LVMH-owned houses, he mixed streetwear with traditional suiting in a way that felt of the moment and appealed to new, younger consumers. Hypebeast once called him the "messiah of menswear."
Even if you aren't familiar with Jones, you may be aware of his work. Under his direction, Vuitton launched its "brilliant troll" of a Supreme collaboration. At Dior, he also collaborated with Nike on a pair of much sought-after Jordans; he's also collaborated more recently with Stussy. Womenswear is new for him, but, like Matthew Williams, whom LVMH recently appointed head of Givenchy, he's a designer whose style can be quite feminine, and whose clothing is already being worn by women — including Bella Hadid, Naomi Campbell, and Kate Moss.
"[Jones] has continuously proven his ability to adapt to the codes and heritage of the LVMH houses while revisiting them with great modernity and audacity," said LVMH chief executive Bernard Arnault in a statement. "At Fendi, I am convinced that his vision and passion will highly contribute to the success of the women's collections."
Silvia Venturini Fendi, the only remaining family member at the brand, extended her "warmest welcome" to Jones in a release on Wednesday, expressing that the two are already bonded by "deep respect and friendship." Venturini Fendi grew up watching Lagerfeld, and stepped into his role following the designer's death in February 2019. Although there was talk of her maintaining her position at the helm going forward — the collections she's designed over the last few seasons have been strong, showing the power and potential of a female perspective — she will instead continue to design accessories and menswear collections alongside Jones. "I am looking forward to [taking] the Fendi universe to the next level with him," she added.
Like Lagerfeld before him, Jones will also juggle two big jobs at once, maintaining his position at Dior in Paris and also designing for Fendi. While many of his peers are paring back (or even sharing the responsibility, as Raf Simons and Miuccia Prada are), he's ramping up. It's a move that raises questions about the consolidation of power in the fashion industry — and the number of white men who still hold it. That said, Jones is a beloved figure who's made an effort to collaborate with a diverse array of talent. His latest Dior collection was designed with the Ghanaian portrait painter Amoako Boafo, and modeled entirely by Black models.
"Working across two such prestigious houses is a true honor as a designer, and to be able to join the house of Fendi as well as continuing my work at Dior Men's is a huge privilege," Jones said in a statement.
His first Fendi show will be during Milan Fashion Week in February.