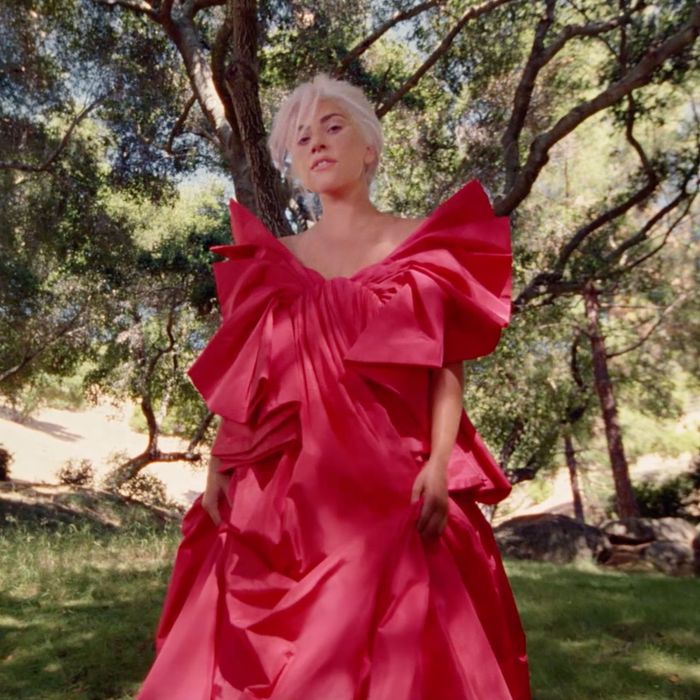 Lady Gaga wearing Valentino in a forest.
Photo: Valentino
Back in July, we knew close to nothing about the new Valentino fragrance that nabbed Lady Gaga as its face, other than the fact that it's called Voce Viva. Now we know what it looks like (red, gold, studded cap), what it smells like (a blooming floral bouquet), and even how it performs on camera, thanks to a new music video that dropped today.
Directed by Harmony Korine, the short film stars Lady Gaga, who is outside doing what she does best (singing, acting, hand modeling). The video is set to something you may already know: Chromatica's "Sine From Above," the song Gaga wrote in collaboration with Sir Elton John as an homage to the power music had in transforming her life. In the Voce Viva remix, however, the synths are replaced with piano, and Sir Elton is replaced with an ensemble of Valentino-clad models from around the world. They're on rooftops singing along with Gaga, who is singing (in socially distanced way) in a Los Angeles forest.
If March's cringe-inducing "Imagine" video has made you suspicious of sing-alongs for the past six months, don't worry; this one's decidedly easier on both the ears and eyes. It's got green trees, blue skies, Valentino gowns, perfect natural lighting, and a consistent breeze that rustles every cast member's hair just the right amount. Watch Gaga and Valentino's artistic director Pierpaolo Piccioli's "invitation to gather together for a more inclusive world," below.