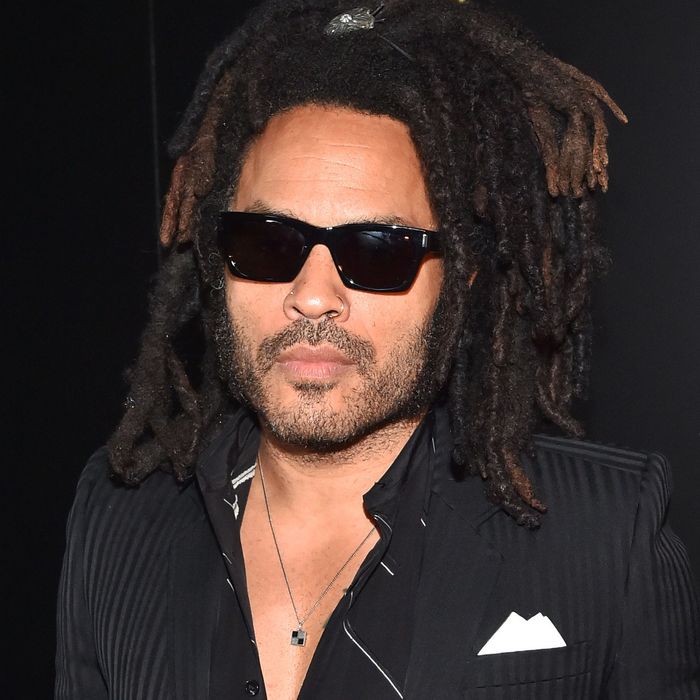 Lenny Kravitz, sandman.
Photo: Stephane Cardinale - Corbis/Corbis via Getty Images
Here is a very soothing thought exercise for you: Imagine for a moment that you've woken up on a beautiful island in the Bahamas. The sun is shining. The sea is a bright, brilliant blue. You rise from your bed and walk down to the water, your feet sinking into soft, white sand. At the water's edge, you inhale deeply, take in the view, and then bend over and plunge your hands into the the silky sand, bringing up handfuls that you rub into your face. You gently scrub your skin, rinse off, and walk back to your house to get your day started. This is your morning routine.
Sounds blissful, right? This is the very chill skin-care routine that rock star and new face of YSL Beauty, Lenny Kravitz, follows while he stays at his home on the small island of Eleuthera in the Bahamas. In an interview with Vanity Fair this week, Kravitz explained that his grooming routine is "very simple": "So pre-pandemic grooming was really the same as it is now. I only use a few things. I wash my face with water, truthfully. When I'm here, I scrub it with the sand from the ocean because it's very fine and powdery."
He's pretty low maintenance when it comes to non-sand products too. "I use coconut oil on my body, shea butter, cocoa butter, all organic," he said. "I use Dr. Bronner's almond soap. I wash my body with it, I wash my hair with it, and I wash my clothes with it. It's a really simple island routine, but I carry that wherever I go."
Damn. Well, excuse me while I apply my full face of clown makeup, as I think about all the money I've spent on skin-care products when I could have been rubbing sand in my face this whole time.