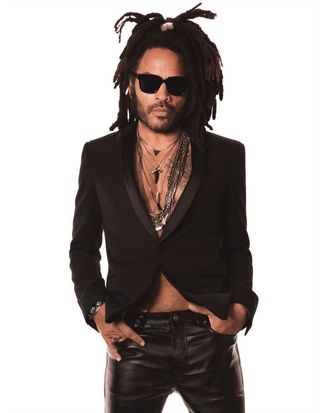 Lenny Kravitz.
Photo: @lennykravitz/Instagram
Another pair of Kravitz cheekbones has joined the YSL Beauté family. Lenny Kravitz, father of Zoë (the brand's global makeup and fragrance ambassador), has officially joined the team as global ambassador of Yves Saint Laurent's Y fragrance franchise.
Why Lenny for Y? "He's cool. He's hot. He's an icon in the YSL style," the brand explained in a release welcoming the singer, who starred in Saint Laurent's AW20 campaign earlier this year. The Yves Saint Laurent man, according to the release, is "a dreamer and a risk-taker. An experimenter and a creator who never stops asking himself: WHY NOT?" Kravitz, a multi-faceted singer, songwriter, producer, instrumentalist, actor, scarf-wearer, photographer, and designer "couldn't be a better fit for Y."
"I've always been a fan of Yves Saint Laurent. Of his work, his aesthetic, his lifestyle, his boldness," Kravitz said in the same statement. "He was super eclectic and drew from so many places. I also happened to already wear a lot of Saint Laurent. Always have. This was not something I had to fit into or think about. It's been part of my lifestyle for so many years. It's a very organic collaboration."
For his YSL Beauté debut, Kravitz will be starring in a campaign film directed by Anton Corbijn that will launch later this month. I suggest staring at this YSL family portrait to pass the time until then.