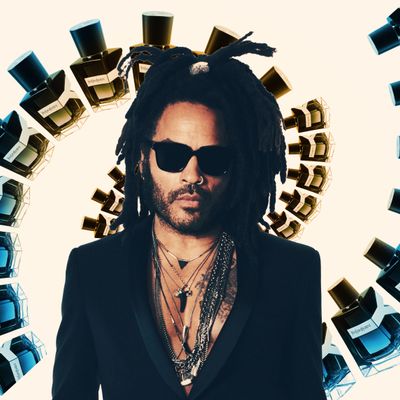 Lenny Kravitz
Photo: Courtesy of YSL Beauty
Scientific studies confirm that of all the senses, smell offers the best recall. In Scent Memories, the Cut asks people about the scents they associate with different times in their lives.
Next up is Lenny Kravitz, very chill multi-hyphenate, newly appointed Yves Saint Laurent fragrance ambassador, and the star of Y eau de parfum's new campaign. Much like Kravitz, Y is hot and cool at the same time, thanks to a blend of zesty lemony-ginger, green-apple, and warm sage notes that mingle with darker, more mysterious ones of smoky vetiver, balsam fir, and cedarwood. The Cut recently caught up with Kravitz to talk scented baths, morning bike rides, and his grooming routine while living in the Bahamas.
On his first scent memory: It's my mother, the smell of her perfume. When I was a little boy and she'd be getting ready to go out, she'd get dressed — she'd always have a fabulous ensemble — and then she'd spray herself with her perfume and walk out the door. I can smell it right now in my mind; it's a smell I'll never forget. That's the first time I remember smelling a fragrance and it affected me. It was part of her ritual, you know? And I understood that. It meant she was going out to do something. It was Estée Lauder, and it came in this blue bottle with black script writing and a gold top, and it was called Youth Dew. It's funny that I still remember the name. It wasn't anything too fancy, but it was her smell.
My first memory of Yves Saint Laurent also goes back to my mother. She had Yves Saint Laurent from the '70s that was wonderful. I didn't start wearing it until the early '90s, after I put out my first record in '89 and I was able to buy clothes, and I got more into fashion, and I went to Paris, blah, blah, blah … I learned more about Yves Saint Laurent the person, the designer, the visionary, and I saw we had similarities in tastes: what he did in the fashion house, how he lived his life, his furnishings, his art collection, his sculptures, his paintings, his swag. He had an amazing style, and it was distinctly his own, you know? I also loved that he was so supportive of Africans and African Americans in his shows before it was "chic," and before a lot of folks were even thinking about doing it.
On what his home smells like: I live in this wood, sort of, shack. It's all wood, so you have the slight scent of wood, and I also burn sage every day. I'll also burn nag-champa incense sometimes; that's been a staple throughout my life. Other times, I'll burn an incense by Chrome Hearts. It has this Japanese sort of smell that's really hard to describe, but it's so good.
On what his nighttime routine smells like: I work late into the night in the studio, so if I'm awake enough after making music, I take a bath to chill and get everything out of my head. I'll put essential oils in the bath. Last night, it was sandalwood and orange. I'll also use coconut oil, shea butter, or coconut butter on my skin — all 100 percent organic; it's very simple. I pretty much only use water to wash my face, and the only soap I have here is the Dr. Bronner's almond one in the big container. I wash my body with it, I wash my hair with it, and I wash my clothes with it, so it works out well.
On what his morning routine smells like: Of course, I brush my teeth. Brushing and flossing is very important; your mouth and gum health is very important and linked to other parts of your health in ways people don't really think about. After that, I go out and take an hourlong bike ride, which I love to do in the mornings. It's a great way to start the day, get your cardio in, let your mind just sort of soar and be free. It's a form of meditation for me. Then I come back and make a juice, jump in the shower, and, again, it's just the water, the oils, and then perhaps the fragrance, if I want to wear it at that moment.
On what his wardrobe smells like: I wear a lot of denim now. It's been sort of my uniform for going out into the world, especially being here in the Bahamas for the past six and a half months. And, of course, my boots. I exclusively wear Saint Laurent boots. They fit the way I like to walk.
On what Y eau de parfum smells like: The scent really takes me back, like I'm with my grandfather, dressed up nicely, getting ready to go somewhere like Lincoln Center to see a performance — an opera, a ballet, a symphony. I used to do that with him; it was such beautiful times. The scent has such a freshness that reminds me of that: him getting ready, putting on his suit and his cologne to go somewhere special. I can see myself with him, not back in my childhood but now, driving over in his car with his favorite singer, Ella Fitzgerald, on the radio. I'm sentimental like that.
On how he applies fragrance: Right on the wrist and then a little on the neck and the chest. That just seems like the places you want it!