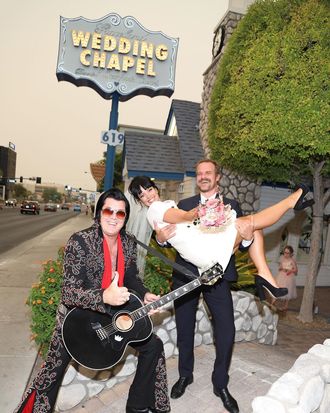 Photo: @dkharbour/Instagram
Congratulations to singer and bangs icon Lily Allen who, under the watchful gaze of an Elvis impersonator, wed her boyfriend David Harbour, the guy who plays the cop on Stranger Things, in a responsible, socially distanced ceremony at the Graceland Wedding Chapel in Las Vegas on Monday.
"In a wedding officiated by the king himself, the people's princess wed her devoted, low born, but kind credit card holder in a beautiful ceremony lit by the ashen skies courtesy of a burning state miles away in the midst of a global pandemic," Harbour wrote in an Instagram post on Wednesday.
After the ceremony, the couple enjoyed a sumptuous meal of In-N-Out Burger.
Allen, who wore a short, double-breasted Dior dress for the occasion, also shared pictures of the event on her own Instagram, including of one of her and Harbour laughing while the Elvis impersonator officiated their ceremony, and one of her enjoying a post-wedding burger. Her bangs, throughout, looked immaculate.
"Darling so it goes, some things are meant to be," Harbour commented on one of her posts.
According to People, the two were first linked in January of this year, when they attended a BAFTA tea party together. In May, Allen posted pictures on Instagram in which she's wearing what appears to be an engagement ring, but the couple never officially confirmed their engagement.
To the happy couple, I say: [Winona Ryder's Stranger Things alphabet–string lights wall blinking out the message] "CONGRATULATIONS LILY AND DAVID."