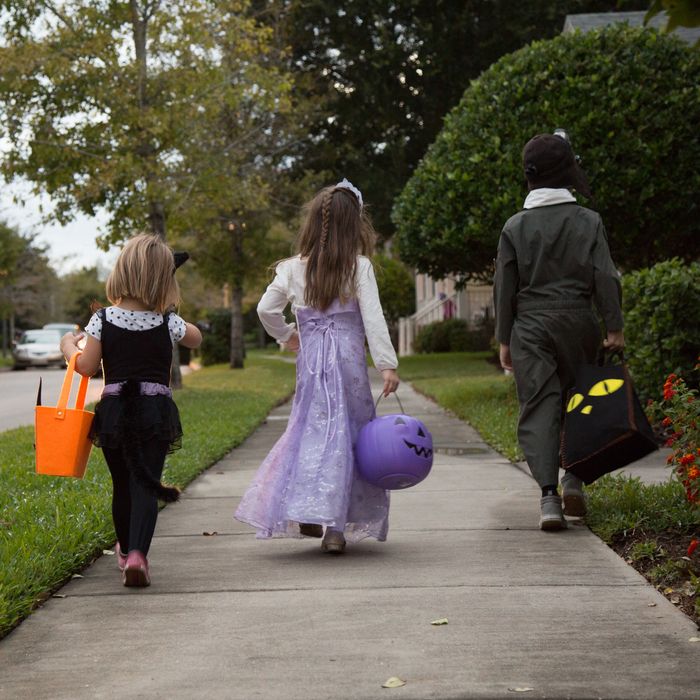 Photo: Getty Images/Image Source
Sad news for the Los Angeles children who love Halloween and the adults and celebrities who make loving Halloween their whole thing: The Los Angeles County Department of Public Health issued a set of Halloween guidelines this week, stating that door-to-door trick-or-treating will be prohibited, as will "trunk or treating" (events where children go from car to car instead of door to door), as well as gatherings and parties with non-household members, and any carnivals, festivals, live entertainment, or haunted houses.
"Door-to-door trick or treating is not allowed because it can be very difficult to maintain proper social distancing on porches and at front doors especially in neighborhoods that are popular with trick-or-treaters," the guidance explains.
The announcement comes a couple of weeks after California governor Gavin Newsom announced stricter state reopening guidelines that placed 87 percent of California's population in the most restrictive tier. Which tier a county falls into determines how many business and operations are allowed to reopen and depends on the coronavirus case rate and positivity rate in that county.
As of Wednesday, according to the New York Times, there have been at least 746,100 coronavirus cases in California since the beginning of the pandemic, the highest number of any state.
As for Halloween, there are still ways for Los Angeles County residents to show off their costumes. In its guidance, the Department of Public Health proposed that people look into safer, alternative Halloween celebrations instead, like online parties and pumpkin carving competitions, car parades, "Halloween themed meals at outdoor restaurants," and dressing up homes and yards with Halloween-themed decorations.
Sure, your skimpy, topical Yandy costume may not translate as well over Zoom. But you can always go as a sexy, off-brand White Claw again next year.