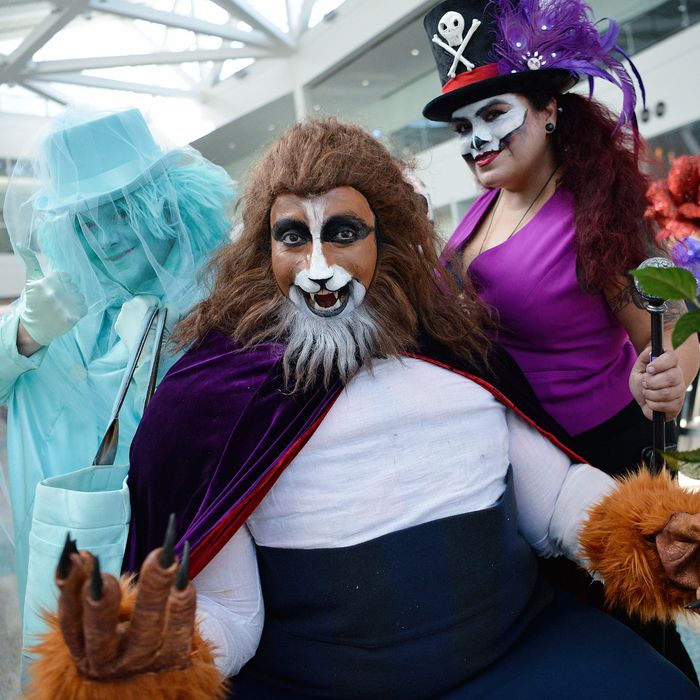 Please, no.
Photo: Getty Images
If hell is this giant Chainsmokers concert held in the grip of a pandemic, then it is also this large crowd baring their eager uncovered faces for Smash Mouth as well as this impromptu anti-masker parade inside a Florida Target. Basically, hell is other people gathering together in big groups for long periods of time, in defiance of coronavirus guidance. So, with apologies to the fantasy lovers of Southern California, Los Angeles Comic Con sounds like it will also be hell. At least if it goes forward as planned in December.
According to the Los Angeles Daily News, the team behind L.A. Comic Con has spent the past six months "struggling" with a question — should we attempt to hold a mass gathering, live, in 2020? — to which health authorities have repeatedly offered a straightforward answer. (No, probably not.) "Since March, we've been living in some version of a 'Lockdown/Safer at Home' world, trying hard to stay safe, hoping and praying for the health and safety of ourselves, our family, friends, neighbors, and all of our fellow human beings," Chris DeMoulin, LACC general manager, told the Daily News. "And yet, we all yearn for just a little bit of normality, to reclaim some aspects of our lives pre-COVID."
Meaning: The convention's on, suckers. The event will take place December 11 to 13, having been pushed back from October, at the Los Angeles Convention Center. In a nod to the coronavirus pandemic, organizers have rented the entire space, giving guests about 720,000 square feet in which to spread out. They're also dividing each day into two five-hour sessions, with time for cleaning before, between, and after each event. Fewer than half of the typical number of fans will be allowed to attend, but still, 12,000 tickets per session works out to a crushload of people in 2020 terms. Organizers indicated that they would postpone if need be — right now, California has the nation's largest outbreak, with over 800,000 cases as of last week — but in the meantime, DeMoulin said, "We're doing everything we can to help nerds unite this December."
Early on in the pandemic, conventions proved to be exactly the kind of superspreader events that made the coronavirus so difficult to contain: In late February, for example, a Boston biotech conference with 175 attendees seeded tens of thousands of infections, in the U.S. and abroad. Packing a bunch of people into an enclosed space for an extended stretch of time creates prime conditions for the virus to really fan out, even if you do clean the surfaces in between crowds, because COVID-19 spreads primarily through respiratory droplets dispersed into the air. Indeed, lots of viruses love conventions precisely because of the vast selection of unwitting human hosts intermingling with abandon. There is even a term for the sicknesses so easily swapped at conventions. It is "con crud," ick.
With that in mind, tickets to Comic Con go on sale tomorrow. We hope that everyone in attendance will at least wear a mask — and no, medically speaking, rubber costume masks don't count.