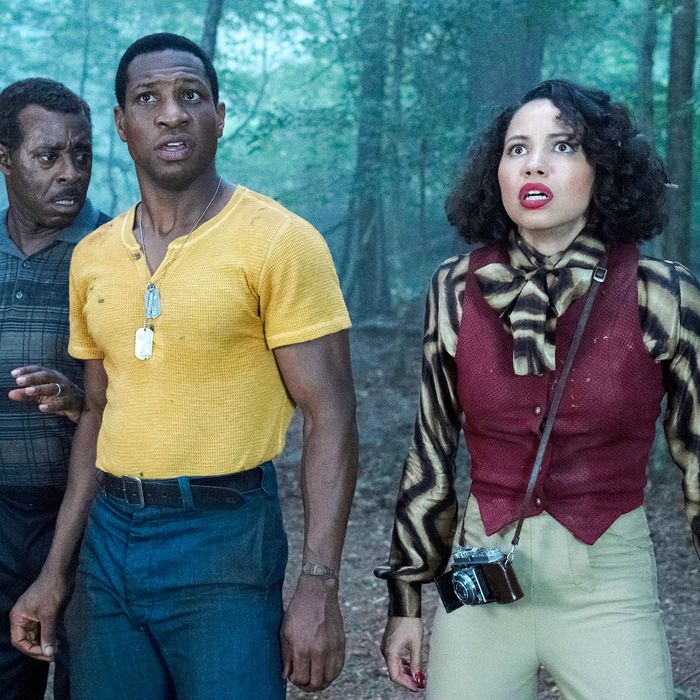 I had been toying with the idea of visiting a tailor for a long time but never really bothered — how much difference could it make, after all? My clothes fit mostly fine. What could a few inches in here, up here, out there really do?
As it turns out, a whole lot. But before I discuss this revelatory moment, I must first tell you a little bit about the new HBO show Lovecraft Country, which was the catalyst for my new obsession with alterations. I was not expecting to be blown away by the show's costuming. I had started watching it because of the concept — it's a dark, occultist fantasy that upends H.P. Lovecraft's original racist storytelling tropes by recasting his monsters as white people in Jim Crow America. There was also the draw of its lead actor, the incomparable Jonathan Majors, who plays the show's barrel-chested hero, Atticus Black (a.k.a. Tic).
Lovecraft Country ultimately didn't work for me as a TV show, but its sartorial flair was another matter. I simply couldn't look away. These, I think, are the best TV clothes I've seen since Mad Men. And the secret, according to costume designer Dayna Pink, is tailoring.
First, there's Jurnee Smollett who plays Leti, the show's heroine, with a wardrobe that consists of high-waisted hot pants and perfectly cut swing dresses. Pink explains that the rest of the actors were dressed in a different color scheme — "a creamy, dreamy, pastel-based palette" — which she used as a sort of canvas to help Leti's looks pop, which they do:
Truly, though, my come-to-Jesus tailoring moment happened with the entrance of Majors in a T-shirt. It's important because never in the history of Earth has a person worn a T-shirt like Majors does in this show:
"We made it for their bodies," says Pink over the phone when I express my awe over his tees. "Because there's his body, which is so beautiful, and we wanted to show every muscle. The pants help to do that. The tight shirts help to do that." Clearly:
And while I love the color and beauty of Leti's wardrobe, I admit to Pink that Major's shirts are were what sent me down the street to get all of my pants and sleeves cuffed. "There's no winning in putting something ill fitting on somebody," she says sagely. "Why wouldn't it fit perfectly?"