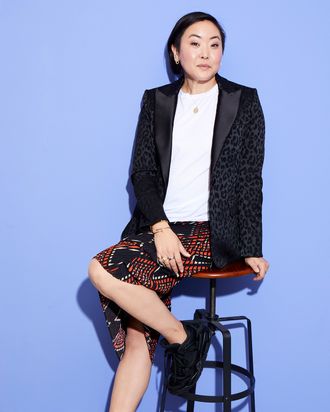 Photo: Courtesy of Pinterest
On Tuesday afternoon, Marie Claire announced that editor-in-chief Aya Kanai will be leaving her role after just nine months on the job. She's off to Pinterest, where she will serve as head of content and editorial partnerships.
Kanai's tenure, however brief, has certainly been eventful. After seven years in various roles at Hearst, she took over for longtime editor Anne Fulenwider at the beginning of the year, diving straight into Fashion Week in February — only to have the world then turned upside down by the pandemic. The news comes as a bit of a surprise: When the Cut caught up with her just a few weeks ago, she seemed to be handling the transition well and made no indication of any plans to leave.
"I am thrilled to be joining the Pinterest team," said Kanai in a statement. "I have spent my career celebrating the vast diversity of personal style, bringing stories to life through images, video and features. […] I am looking forward to evolving the creative ways we can inspire Pinners, while giving brands new ways to reach this growing audience."
Kanai's replacement is Sally Holmes, who started her career right here at New York Magazine as an editor for the website before moving over to the Cut ahead of its relaunch in 2012. She joined Hearst in 2014 as the senior news editor at Elle.com, heading to Marie Claire in 2018 to serve as its digital director. In January, she was named executive editor, managing the team on both print and digital.
"I love that I'm stepping into a role held by amazing women I've long admired," said Holmes in a press release. "Marie Claire is an incredible global brand that at its core is all about empowering women, telling impactful stories and connecting with its audience of smart, stylish, ambitious women. At this critical moment in our country, I'm honored to lead a brand that has the power to inspire meaningful change, amplify voices and galvanize readers to vote."