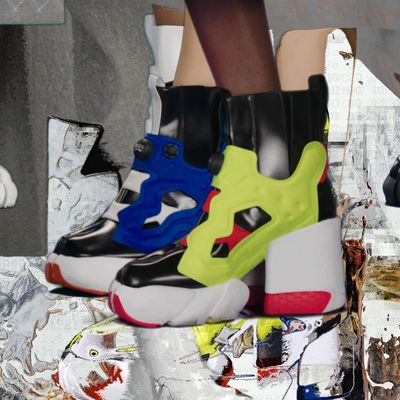 Photo: Courtesy of Reebok
The Maison Margiela and Reebok shoe collection is here just in time for fall. For their first footwear collaboration, the brands joined together to see what it would look like if their most popular shoe styles synthesized. By fusing the Tabi, Margiela's signature split-toed shoe from 1988, with the Instapump Fury, Reebok's trailblazing silhouette from 1994, they created the Tabi Instapump Fury. The hybrid shoe gives off Zenon: Girl of the 21st Century vibes meets '90s R&B group vibes, and we are here for it.
"The shoe builds on Maison Margiela's analyses of the conversation between humanity and technology in the digital age," says John Galliano, Margiela's creative director.
Making its debut back in January at Paris Couture Week, the Margiela x Reebok collaboration is now available to order in two versions and four colorways. The Tabi Instapump Fury Hi and Lo are available in all-black or all-white, plus color renditions that pay homage to the OG Instapump Fury, such as the yellow, black and red as well as the white, blue and red.
Starting at $1,150, the shoe is now available at the Maison Margiela store on Crosby Street in Manhattan, as well as Maisonmargiela.com.