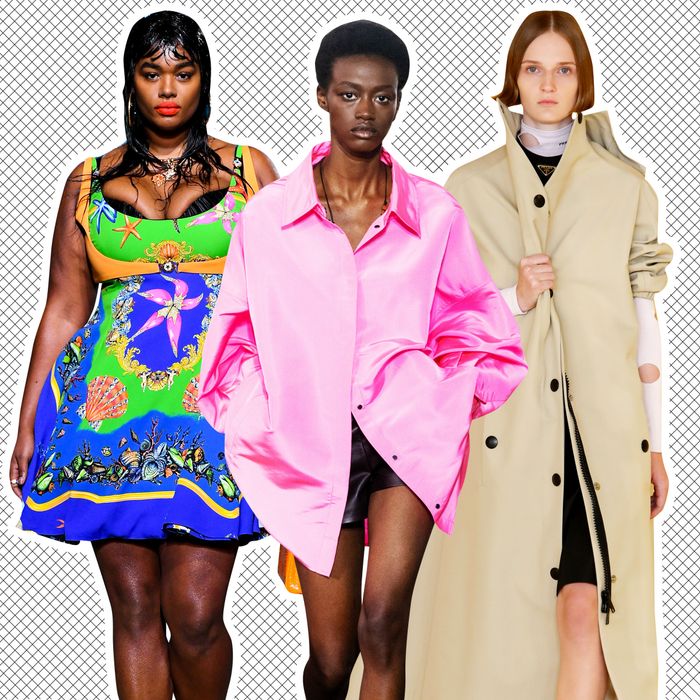 Photo: Courtesy of Versace, Valtentino, Prada
Back in February, during the last few days of Milan Fashion Week, the city went into lockdown as the coronavirus began to spread throughout Italy. At the time, even Giorgio Armani, the trade capital's figurehead, decided to cancel his in-person runway show, presenting the collection to an empty room instead. Now, more than six months later, that is the norm. Over 35,000 Italians have died from the virus, and the country's economy has been hit hard. But the spring 2021 shows went on last week, with brands getting creative about how to safely present their new collections.
"During this year marked by the COVID pandemic, fashion has demonstrated, despite the struggles that lay before us, a great sense of heart, strength, and unity," said Camera Nazionale della Moda Italiana president Carlo Capasa.
Below, 13 standout looks from a historic Milan Fashion Week.
Fendi
This was Silvia Venturini Fendi's final solo show before Kim Jones joins the house as an artistic director next season, and it was lovely. She was inspired by a familiar view from lockdown — a window onto the outside world — and also referenced domestic materials like linen tablecloths and bedding. Prints on breezy, sheer fabric resembled curtains with an afternoon shadow cast on them (left). And one of my favorite looks included a starched white napkin worn as a necklace (right).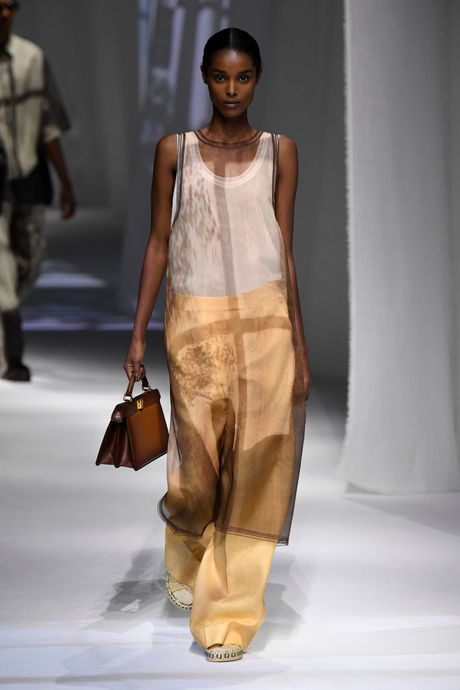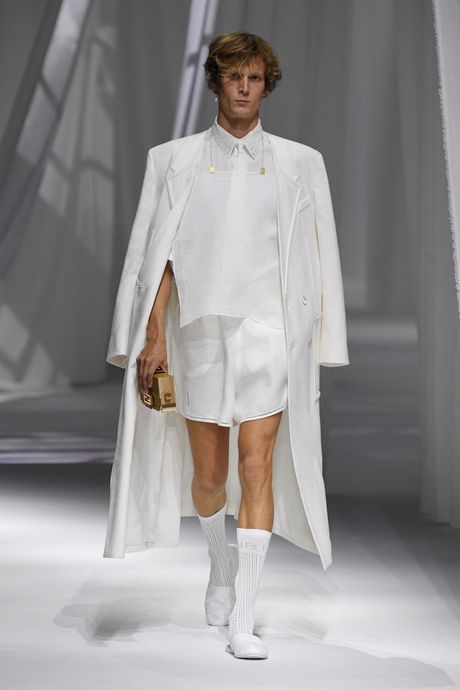 Versace
Despite the show taking place "underwater," models like Precious Lee looked absolutely smokin' hot in the brand's signature bright, neon aquatic prints.
Marni
Creative director Francesco Risso always brings a painterly, arts-and-crafts type of energy to his Marni collections, and this one was meant to show the "process," with slashed tops and tutus cut in two. It gave the clothes a sense of individuality and rawness; they weren't so precious looking. For the look book, friends of the brand were captured moving about their "daily lives" in the real world — at a distance.
Max Mara
Behold: a jumpsuit version of the brand's signature camel-colored coat (for when you don't need a coat inside).
Prada
Prada's much-anticipated collaboration with designer Raf Simons did not disappoint. There was lots to choose from in the collection, but the coats were a real standout. Models clutched them much like Mrs. Prada has been known to do herself, with the sleeves rolled up, as she also tends to style her personal uniform. But they also had a sleek, modern look to them that we've come to expect from Simons. A good match.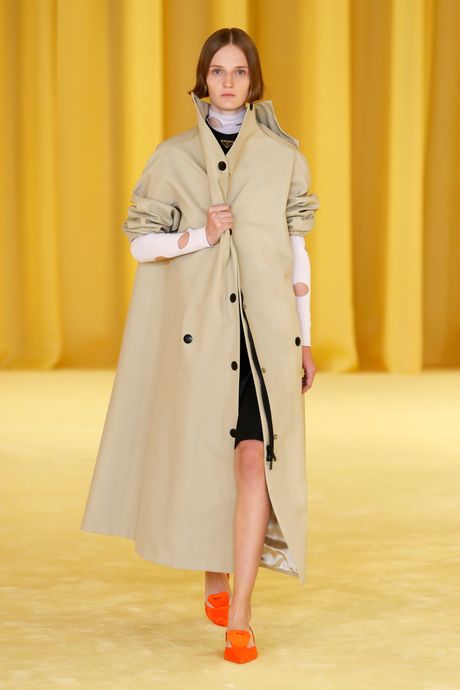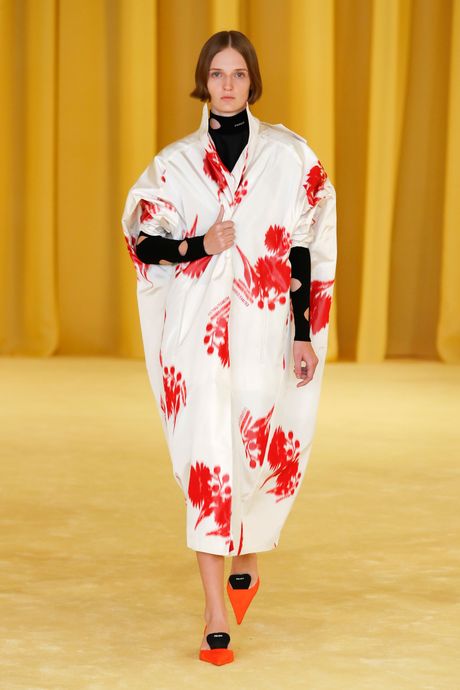 Tod's
Since creative director Walter Chiapponi joined the historic Italian accessories brand last year, he's brought a youthful energy and color to the collections. I particularly like the way this look is styled: a vest with no shirt underneath, plus bright, casual pants tucked into equally fun socks — a good move if you're biking around.
Emporio Armani
Another vest for spring! This one from Emporio Armani is a bit more formal, although probably just as comfortable.
Valentino
Designer Pierpaolo Piccioli is known for his colorful, showstopping gowns, which have been known to make Celine Dion cry. With fewer red carpets and occasions for wearing such a thing these days, though, he translated the style to a bright, oversize shirt this season.
Loro Piana
I mean, this is luxury. Just look at her! She's so relaxed in her rich, green spring sweat suit.
Salvatore Ferragamo
Even though this look is for men, anyone could be attracted to a lemon-sorbet summer knit.
Fear of God Exclusively for Ermenegildo Zegna
If you're looking to elevate your sweats next spring, Fear of God designer Jerry Lorenzo and Zegna artistic director Alessandro Sartori are here to help. The light turtleneck and thick jacket in this look are great, but my favorite part is the cummerbund waist.