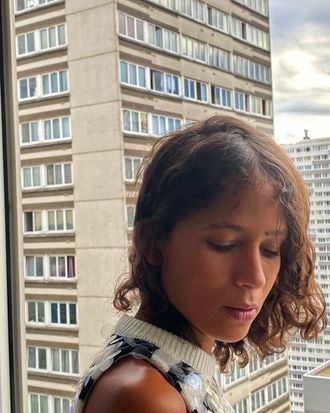 Photo: Courtesy Mati Diop/Miu Miu
When Miu Miu first approached French director Mati Diop about making a short film during confinement earlier this year — the 20th in the brand's robust "Women's Tales" series — the idea gave her pause. But it also intrigued her.
"In the midst of a health and social crisis, I thought it was a very delicate exercise but also a challenge that confronted me with essential questions about my practice as a filmmaker," Diop explained. "What story can I tell now, with minimal means, alone in my studio, that resonates with what the world is going through while being intimate?"
Diop had already started filming home videos from her apartment, shooting her neighbors at night from the 24th floor of her building in Paris's 13th Arrondissement. But the ultimate inspiration for In My Room, as the short is called, was a series of audio recordings she had made with her grandmother, Maji, during the last three years of her life. Their conversations, which touch upon everything from acting to opera, took place in the small living room of Maji's own Paris apartment, to which she had been confined for over 20 years. Diop found it fitting to combine her grandmother's voice with footage from her own time in isolation.
"In the same way that there was only for a moment as special as a lockdown for me to explore this intimate material, In My Room is the only film that imposed itself to me at that time, that felt truly worth being made, being shared," Diop said.
The film premiered at the Venice Film Festival on September 6. Watch it below; the entire Miu Miu "Women's Tales" series is now available to stream on Mubi.