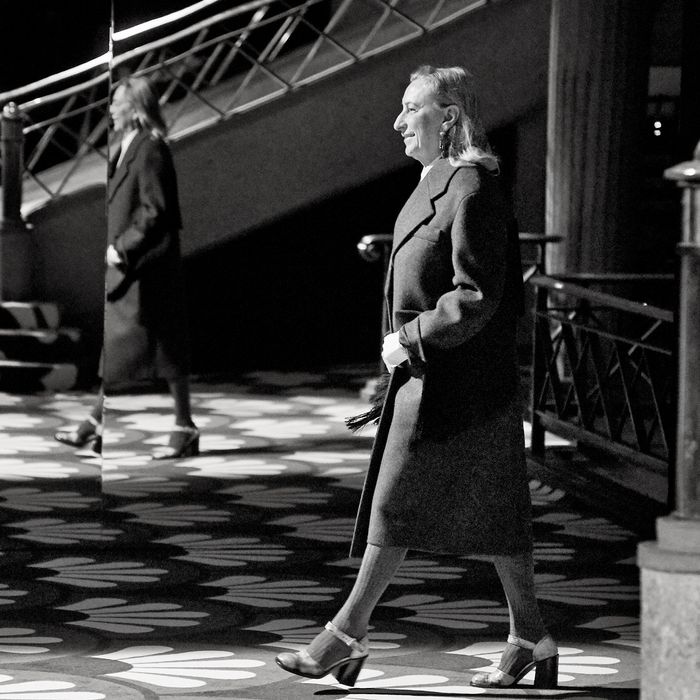 This article was featured in One Great Story, New York's reading recommendation newsletter. Sign up here to get it nightly.
The late writer Ingrid Sischy once described Miuccia Prada's approach to design, or to most anything that interests her, as "sparring and talking." I've had conversations with Prada—before her shows in Milan, a very long lunch interview in 2014—and been aware of how open her mind is. But equally, and with a nice, sweet jab, she can reject an idea. Followers of Prada are familiar with everything she has done over the past three decades—she showed her first collection in 1988 at the age of 39—but to be confronted by her brilliance, even over Zoom, is to again be reminded that fashion is defined less by craft and materials than by well-thrashed ideas.
Undeniably, though, the Prada company is at a turning point. The Lombardy region was hit hard by the coronavirus, and Miuccia and her husband, Patrizio Bertelli, Prada's chief executive, had initially focused, like many Italian business owners, on protecting lives and livelihoods. In a conference call last month with financial analysts, Bertelli, with typical candor, acknowledged the severe effects of the recession. And then there is Prada's new partnership with Raf Simons, which officially began over the summer. It promises both excitement and the unknown.
When we spoke in July, Prada was in the living room of her Milan apartment, a large, loftlike room with books, artwork (a huge Baldessari was to her right), and a pair of deep-green sofas. She had on a golden-yellow silk dress.
She wasn't in the mood to ponder the ways the pandemic might change society. "Maybe what I don't like about this moment is the rhetoric of what will happen post-coronavirus—that we will all be good, that we will all be better," she said, somewhat grumpy but thoughtful. "The intelligent will stay intelligent and will understand even more, and the ones who don't care or who are superficial will stay the same. So let's see if people learn something."
She wasn't finished. "The other rhetoric that I don't like is that 'we are in a moment like after the war.' It is difficult to define, but I have the impression that the First World War and the Second were moments when people were somehow more innocent, and so there was a really pure joy and pleasure during the reconstruction. People were dancing in the street when the war was finished. I don't see happiness now. First of all because we are still under the threat and also because the world is so complicated, so many negative things [are still] happening. And of course the internet amplifies more the bad things than the good. So you're constantly submerged by negativity."
I said, "People often point to Dior's New Look in 1947 as an example of a rebirth of creativity."
She wasn't having it. "I'm not negating that you can have moments of dressing up and trying to cheer up. Of course that will happen. But not like that moment—it was so different. I don't see any similarities with that moment."
And Dior, through no fault of his own, didn't know about 24-hour news and social media.
Prada said, "In the mornings, you try to read about this, about that, but how can you read about everything? That's my biggest frustration, and also one of the most difficult points. It's very much why people turn into smallness. Because to get the whole, it's difficult and nearly impossible. And people tend to close up.
"You have to think. And it's not like you can have a quick answer for everything. Actually, you have a quick answer about nothing."
I mentioned Simons's comment that the "pandemic has shaken us out of systems" and that Marc Jacobs had said something similar. Prada was more practical, acknowledging that there's a fashion-show arms race. "Basically, as designers, we are at the service of the company. And so if the company decides it wants to do 20 shows and accelerate—and there will always be somebody big that accelerates—then you have to accelerate." If you decide to go small, she told me, "you risk to go out of the system."
She went on, "Even before the pandemic, we always said it was too much. But it's not because we like to do ten shows—we don't like that. But, again, it's the globality. You have to be everywhere, because your customers want you. You have to show up. If you're only interested in Europe, it means your mind is narrow.
"Also, we can't forget that we live in the economic system that we do—call it capitalism. That is what leads events. So I don't see it as so easy [to change the fashion system]. It's a hope, of course. We all felt that the pressure was too much, and we also felt that there was too much stuff, too much everything. But we have to be ready to discuss the economic system. It's not that designers can change the economic system. We can try to do less, be more conscious of the environment, but this is so little compared to the reduction of the huge waste in the world … Any critic should be more deeply political than just of the system of fashion. I totally agree with what my colleagues say. I totally agree. But I am more cynical in trying to understand the difficulties of something like that."
So how will change come? "First of all, people should go back to voting. I know a lot of young people who say, 'I don't like politics, I don't vote.' And I say, 'Listen, that is a way you can influence politics.' The only solution I see if you really want to change things is to be more political and dedicate more time to think about it. It must be a collective answer."
Prada has been invested in "the collective" since she joined the Communist Party as a university student in Milan in the '60s, though for young Europeans at the time it was a pretty typical thing. Politics clearly still anchors her, though she knows that, as a fashion designer, she's compromised.
"Politics is one of the things I care about most," she said, laughing, and added, "but being a rich fashion designer, I always refuse to talk about politics. I don't want to do politics because I am a fashion designer who does clothes for rich people, so how can I be a politician? The moment that I eventually will stop doing clothes and I change jobs, actually I could do it. I do politics in all different ways, through action but never as a declaration."
I told her, "One of the things I've loved in doing this project is to hear how passionate designers are. I mean, I knew but—"
"I always try to think about why the idea of fashion can be somehow embarrassing. Still, even if there are so many people who love fashion, for some, fashion is something embarrassing. Probably because it talks about your body, your physicality, your sexuality—by definition, it's so personal that probably people don't want to talk about it. So it's not like doing a chair. It's much more difficult to be a fashion designer. To do it well takes a lot of thinking."
Knowing that she probably wouldn't discuss her collection with Simons, I asked Prada about their working process. She shook her head. "We just started to work together, so sincerely I have nothing to say at the moment and especially without him."
Prada's very first collection can be found on YouTube. It's worth looking at, mainly because it's so different—simpler, more offhand—than what she later became famous for. Several of the models were older. (When I asked her in 2014 why she didn't put older models on her runway—a trend at the time—she answered that it was a "cliché." And she had already done it.)
She told me that after that first show, people in the company and around her "decided I was not a fashion designer, and that I had to be more of a proper designer." She tried that for a while and then stopped.
"I said, 'Listen, now I do what I want. Okay, I'm not a fashion designer, I'm who I am.'
"In the beginning, no one liked what I did except, let's say, a few sophisticated people who promoted me. For those who like classics, there was something deeply disturbing, and for the avant-gardists, it was not avant-garde enough. And actually I love to be in that place between displeasing people but intriguing everybody probably. To do something normal that looks deeply strange."
She paused, looking away. "Anyway, we are ready for a new adventure."
Prada and Bertelli have two sons, and in 2018, their eldest, Lorenzo, a retired race-car driver, joined the family firm as director of marketing and communications. I asked her how his thinking is different than hers and Bertelli's.
"For sure, he has a different mentality. Globalization for his generation, it's normal. Anyway, I don't really want to talk about him. He's good. We're very happy." Prada almost never talks about her kids. "No," she said, with a laugh, "because they don't want me to talk about them." But, she added, "for sure, they have a different way of learning. Literature is something that, as for many young people, they don't know. I say, 'How can you live without it?' If I think about how relevant literature was for me, I learned fashion through literature and movies. But obviously there are many different ways of being cultivated."
I brought up the Black Lives Matter protests and the issue of greater inclusivity in the industry.
"My thoughts are more or less what I told you earlier," she said. "It's not enough to say, 'We're democratic, and of course we're against racism.' It's not enough. You have to be more proactive. My son is also very involved in it. All of us are very much involved in trying to find ways to make changes from inside. If people talk and discuss and protest, things change. But it needs everyday work. It's not about a declaration, it's about finding a way that is really more inclusive. Wanting to do it is the important thing."
She added, "For sure, more voices, more difference voices—we need it to nourish our brains. I think this is really fundamental. To enrich the work—" She suddenly laughed. "That sounds a bit like rhetoric." And then she laughed again.
*A version of this article appears in the August 31, 2020, issue of New York Magazine. Subscribe Now!