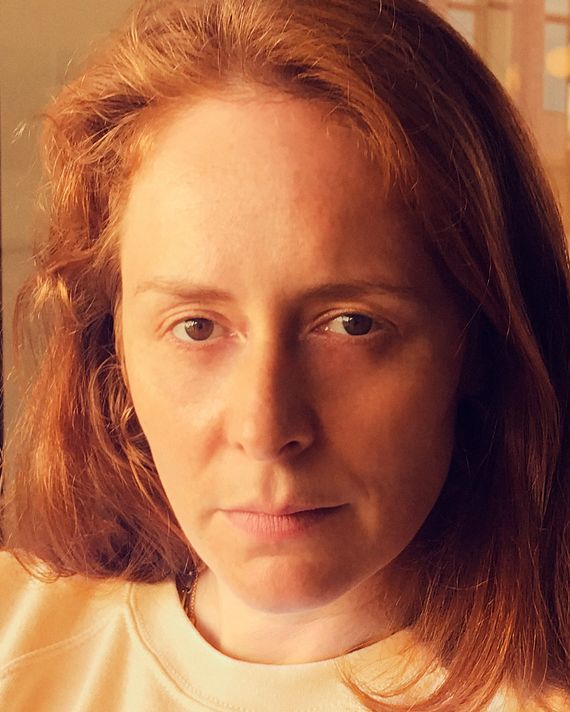 Photo: Christopher Anderson/Magnum for New York Magazine
Confinement can be very difficult for a human being," Nadège Vanhee-Cybulski asserted when we spoke in June. She was still in the Paris apartment where she'd spent months with her husband and baby. It is a comfortable apartment in shabby Pigalle, but life inside and out took on a considerably smaller dimension when people were forced to stay at home. "We were only allowed to go out for an hour, and anytime you went out you had to bring a form. So there was something quite obstructive about it. Our freedom was gone."
By August, freedom had become the main feeling of the new collection that Vanhee-Cybulski, the chief of women's ready-to-wear at Hermès, had designed remotely with her team.
Hermès has always said that its customer is "moved by art, design, sensuality" — and "in the middle are the craftsmen." The Birkin might be a status handbag, the Cape Cod watch with the double-looping strap a mark of cool taste, but what finally distinguishes these iconic designs is craftsmanship. Nonetheless, the brand has employed several of the most famous designers over the years, with varying results. Jean Paul Gaultier's vision for the house during the aughts tipped the craftsmanship further toward "Fashion," which, after the sublimity of the Margiela era (1997–2003), was like sitting down to a whole foie gras served up by Eric Idle. Vanhee-Cybulski, who worked with Margiela at his own brand, is the best women's designer to work at Hermès since him and among the very best working in fashion today. What's different about her work, especially as she has become more familiar with the range and creativity of Hermès artisans, is that at its core it's calm. Sure, she can leap through the technical hoops, like the leather that made up 70 percent of her spring 2020 collection, but the result is something both functional and sensuous, never overdone — like a Bauhaus design puzzle.
"Before the lockdown, we had already made good strides with the spring [2021] collection," she told me. What they hadn't finished, they let go. She wasn't even sure how to make the rest of a collection. "How can I do my job if I cannot touch someone? You fit clothes on a body; it's a very tactile process," she said.
For inspiration, she turned to the collages by Georges Braque and other early modernists made out of non-art materials like newspaper. "To bring a specific finishing or proportion, it's actually quite easy now with Photoshop and the iPad. You can reduce the image or add another layer, and you can sketch and add to it. We could drape and then take a picture, and we could work on the silhouettes."
She got the whole team to work this way, collaboratively, on a single shared file. "Everybody was at home, so it was a way to keep the bonds. I'm privileged, I have a family. But the young people on my team, they're alone in a small flat, and it could be quite difficult."
Two months later, when I asked Vanhee-Cybulski what aspects of her lockdown process she'd like to retain, she replied, "Creative agility."
She told me, "I think we are actually entering the 21st century — now." The pandemic and its consequences are "proof that we have totally integrated into this globalized civilization. I don't think it's about going back [to what was normal]. It's about how we can evolve."
I asked her to look ahead: "We'll stay more indoors than outdoors for the next six to 18 months. I think we'll be less inclined to travel. It's almost like the public sphere is shifting away, and it's more about being inside. I'm not saying we're going to dress in pajamas. It's a question of clothes having a different function inside, so that's interesting."
She added, "People are also looking for meaning — the balance of working in a respectful manner for myself, my collaborators, my country, and, of course, other countries. More than ever, there is definitely a whole context of values that has to be created through a garment." That has been true for a while. But, she told me, "it's accelerating."
Vanhee-Cybulski, who is 42, grew up in Lille, in northern France, the daughter of an Algerian Muslim and a French Christian, and she has said her upbringing was "a great asset because I had a bigger world to look at." When we first spoke in June, she recalled that as a student at the Royal Academy of Fine Arts in Antwerp, she admired the early designs of Raf Simons for their "sharp" silhouette.
"It was the look that I liked so much," she told me. "But I think today a woman of 20 wants something more than a look." More and more, she wants to know that her clothes are sustainably made. Vanhee-Cybulski doesn't think she has all the answers but feels that the bigger the company is, the more altruistic it should be. I mentioned that although fashion magazines are quick to promote new designers or the latest performer or artist —something they've done for decades — they rarely do it today with the same sense of mission or delight or discovery.
"I totally agree," she said. "They've dislocated themselves from the center of gravity of fashion. I think publications have lost the meaning of their jobs. I mean, they don't know anything about fashion! There are so many ways to present fashion, talk about fashion, bring in different subjects."
Vanhee-Cybulski suddenly laughed and said, "You know what's good about the pandemic? It's that all those celebrities are flushed out of the Instagram world, and it's more about nurses, doctors, the woman who goes to the supermarket and works at the checkout. That's such a good shift."­
*A version of this article appears in the August 31, 2020, issue of New York Magazine. Subscribe Now!