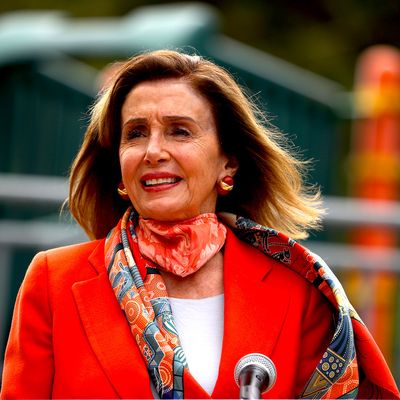 A freshly coiffed Nancy Pelosi.
Photo: Justin Sullivan/Getty Images
There are some questions we may never be able to answer definitively, such as: What about this painting of tipsy lads makes it so stealable, and, how is a sex scene "not like eating a sandwich," and, was Nancy Pelosi's most recent hair salon visit actually a political sting? With respect to that last one, it's possible that clarity may eventually come; however, today is not that day.
Here's what we know so far: On Monday, August 31, House Speaker Nancy Pelosi got her hair done at a San Francisco salon, ESalonSF. She apparently did so in contravention of the city's coronavirus guidelines, which kept salons closed until Tuesday, when they were allowed to reopen for outdoor haircuts only. Per footage leaked to Fox News, Pelosi got a wash and a blow-out indoors, and she failed to wear her mask for the full length of her visit. Naturally, the GOP jumped all over this, with Senate Republicans tweeting: "Speaker Pelosi has pushed policies that would keep our economy closed and our small businesses shut down. But for herself? A salon visit whenever she pleases." On Thursday, White House Press Secretary Kayleigh McEnany kicked off her press briefing by playing the leaked video on loop, remarking, "Apparently, the rules do not apply to Nancy Pelosi."
Admittedly, this does not look very good for the California Congress member, who just blamed Republicans for slowing reopening by refusing to "listen to the scientists." On Wednesday, she lambasted the incident as "a set-up."
A spokesperson for Pelosi said in a statement that the salon "offered for the Speaker to come in on Monday and told her they were allowed by the city to have one customer at a time in the business." Pelosi "complied with the rules as presented to her by this establishment," the spokesperson added. "I take responsibility for trusting the word of a neighborhood salon I've been to over the years many times, and when they said we're able to accommodate people, one person at a time, and that we can set up that time, I trusted that," Pelosi later told reporters, per CNN's Manu Raju. "This salon owes me an apology for setting (me) up."
As to why her mask was slung around her chin in part of the footage, she reportedly explained: "I just had my hair washed. I don't wear a mask when I'm washing my hair. Do you wear a mask when you're washing your hair?"
As Jezebel points out, though, looking up the local coronavirus protocol ahead of time was always an option. But regardless, salon owner Erica Kious told Fox News a different story. She said Pelosi's assistant notified a stylist, who rents a chair at ESalonSF, about the impending visit on Sunday. The stylist then texted Kious, who said she "was like, 'Are you kidding me right now? Do I let this happen? What do I do?'"
"It was a slap in the face that she went in, you know, that she feels that she can just go and get her stuff done while no one else can go in, and I can't work," Kious continued. "We have been shut down for so long, not just me, but most of the small businesses and I just can't — it's a feeling … of being deflated, helpless, and honestly beaten down."
But the stylist who did Pelosi's hair disputes the owner's version of events. In a statement issued by his lawyer, Jonathan Denardo told CBS News that Kious personally approved Pelosi's appointment and later mocked Pelosi over the phone. He continued: "It appears Ms. Kious" — who, Denardo claims, has been flouting social-distancing mandates throughout the pandemic — "is furthering a set-up of speaker Pelosi for her own vain aspirations."
A maskless salon moment does not seem like the kind of behavior that Fox News would normally take issue with, given that many of the network's hosts spent a solid chunk of the pandemic painting COVID-19 as a hoax. And then, Republicans have been vocal about how badly they want businesses and schools to reopen, whatever the cost. That doesn't necessarily mean Pelosi walked into a rightwing trap, but whatever actually happened, a straightforward apology from Pelosi probably wouldn't hurt. Speculation about personal sabotage seems more like the president's wheelhouse, anyway.
This post has been updated.