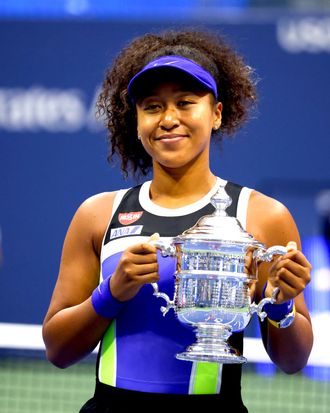 Naomi Osaka.
Photo: Al Bello/Getty Images
On Saturday, 22-year-old Naomi Osaka won the U.S. Open, defeating opponent Victoria Azarenka to secure her third Grand Slam title. In each of her seven matches, Osaka wore different face masks printed with the names of Black men and women killed either by police or by vigilantes: Breonna Taylor, Elijah McClain, Ahmaud Arbery, Trayvon Martin, George Floyd, Philando Castile, and finally, Tamir Rice.
After she won, reporter Tom Rinaldi asked her about the message she wanted to send with her masks. In response, Osaka calmly turned the question back on Rinaldi:
"Well, what was the message that you got, was more the question. I feel like the point was to make people start talking."
On Twitter, viewers lauded Osaka for using her platform to "hold up a mirror," as journalist Michele Norris put it.
All summer, Osaka's activism has centered victims of violence, maintaining awareness without focusing attention on herself. In June, she flew to Minneapolis to participate in protests sparked by George Floyd's death, without alerting her agent or coach, according to the Wall Street Journal. Before the U.S. Open began, Osaka — reportedly the highest-paid female athlete in the world — joined in solidarity with NBA players striking for racial justice, opting out of the Western & Southern Open semifinal and temporarily shutting down the Women's Tennis Association. "If withdrawing from a tournament would cause the most stir, then that was something I needed to do," she explained after the fact. "I don't feel like I am being brave, I just feel like I am doing what I should be doing."
Last week, after she won her quarterfinals, Osaka was moved almost to tears in an ESPN appearance, which featured a video message from the parents of Trayvon Martin and Ahmaud Arbery. Martin was 17 and walking home from a convenience store when George Zimmerman fatally shot him in 2012; Arbery was 25 and out for a jog when two white men cornered, shot, and killed him earlier this year.
"I just want to say thank you to Naomi Osaka for representing Trayvon Martin on your customized mask, and also for Ahmaud Arbery and Breonna Taylor," Sybrina Fulton, Martin's mother, said in her message. "We thank you from the bottom of our hearts. Continue to do well. Continue to kick butt at the U.S. Open." Ahmaud Arbery's dad, Marcus Arbery Sr., echoed Fulton: "God bless you for what you're doing and you supporting our family with my son. My family really, really appreciates that."
In a subsequent news conference, Osaka said that she was trying hard not to cry after viewing the messages; in the moment, she praised Fulton and Arbery's strength, and explained that she felt she was simply doing her part to keep the spotlight on victims.
"I'm not sure what I would be able to do if I was in their position," she said. "I feel like I'm a vessel, at this point, in order to spread awareness, and it's not going to dull the pain, but hopefully I can help with anything they need."