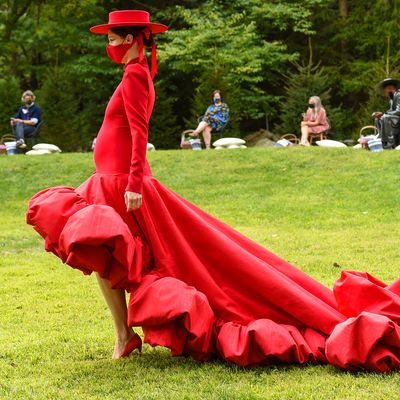 Coco Rocha in "Collection 37."
Photo: Getty Images for Christian Siria
Christian Siriano debuted his spring 2021 collection, titled "Collection 37," at his Connecticut home yesterday. Three days before the event, I was asked to sign a health and safety release "in the extremely unlikely event that contact tracing is necessary," and the day of, I was picked up from New York City by a masked driver and taken the two hours to Westport.
This may have been a lot of trouble to go to for a fashion show, but in a season during which only three major brands showed live in New York City, it was worth it. Especially, it seems, for Siriano, who has been working to support the city since the pandemic began (back in March, he had offered his atelier and team of seamstresses to help sew face masks for essential workers). And in the wake of a pandemic summer, Fashion Week, usually so buoyant, has felt tenuous. Even Tom Ford, who released his collection digitally, appeared shaken; Siriano seemed determined to inject some joy into the affair.
Two things happened when I got out of the car: I was temperature-checked and I saw a deer. I was then directed to a winding gravel driveway with forest on either side (RIP my heels; I was overwhelmed by the opportunity to dress up). Speaking of dressing up, I will note that the best part about a masked, COVID-era fashion show is that you can, if you wish, render yourself completely unrecognizable. You could be anyone behind that mask! A celebrity, a Tupperware heiress, a TikTok star — it's a kind of fashion freedom I've never known before.
Along the way, I was greeted by a masked male model who offered me a bottle of hand sanitizer and another face mask. Later, this model, the lovely Don Hood, would help the other models exit the "runway" — the slick, grassy slope that leads from Siriano's back lawn into his house. Also on the never-ending gravel path: luxury portable restrooms, sanitized between each use.
Finally I got to the house. Siriano lives in a Parasite-esque compound. It's white with massive windows through which you can see everything, including a huge bathtub. As I approached, a masked and gloved bartender offered me a premixed Hendrick's cocktail in a sealed glass bottle. A few paces away, I was offered more alcohol, this time Champagne, which I accepted and then promptly spilled.
The setting was a giant clearing bordered by pine trees with a natural-looking pool in its center. Foster the People was playing over the thrum of crickets. Lowes, the hardware store, did the landscaping, and the yard was garnished with many yellow, red, and pale-pink floral arrangements, the same palette as "Collection 37."
Guests were seated six feet apart. Individual chairs were placed on individual rattan mats, cream pillows stacked tastefully on one side, a picnic basket on the other. What's this, food? Yes! It contained: cucumber rolls, sandwiches, cookies, an entire bottle of rosé, and bug spray (this was the most useful). It was a pleasant setup, and I recalled my last Siriano show, his spring 2019 collection, where I was squashed between a photographer and an Instagram model in the steamy globe of Gotham Hall.
Billy Porter arrived in what looked like custom "Collection 37": a shimmering gunmetal pantsuit, platform boots, and a wide, stiff-brimmed boater hat, also silver. He was the only celebrity there, which was fine, because he has the charisma of 50. Guests could be heard exclaiming, joyfully, variations of the following: "I haven't gotten dressed up in months!," "This is the first time I've worn this," and "I forgot how to walk in heels." The only trend I saw was a face mask; otherwise, people seemed to be wearing the outfits that made them the happiest: silky ball gowns, sweat suits, thigh-high boots, and snakeskin stilettos.
Stilettos on that lawn! How did the models fare? Exceptionally well given the flowy hems that Siriano is fond of. One model who stumbled recovered beautifully, as if she had meant to fall all along, and another said the grass was nothing — she'd walked on worse. (Footwear was provided last minute by Sarah Jessica Parker.)
Pregnant Coco Rocha closed the show by stepping into the pool. She wore a red gown that Siriano said was inspired by the "really ripe tomatoes" he had been cooking with in quarantine.
As for Siriano's inspirations, they were on vivid and joyful display. Throughout the pandemic, many of us have found shelter in childhood nostalgia, or even literal shelter in the bedrooms we grew up in. Siriano's collection came from the same place, and he said he drew on those films he loved as a kid: "Troop Beverly Hills … Clueless, and even The Wizard of Oz." As such, the collection was peppered with plaids and daisies, puff sleeves and feathers. It's all ostensibly childish, but it was cut and placed in such a way that what resulted was powerful, playful, and chic all at once.
On my way out, back down the endless gravel path with my gingham-lined basket, of course I'm forced to think about The Wizard of Oz. What is it like to be at a fashion show right now? Surreal, a little scary, and beautiful. But Siriano showed that, in the end, there's really no place like home.