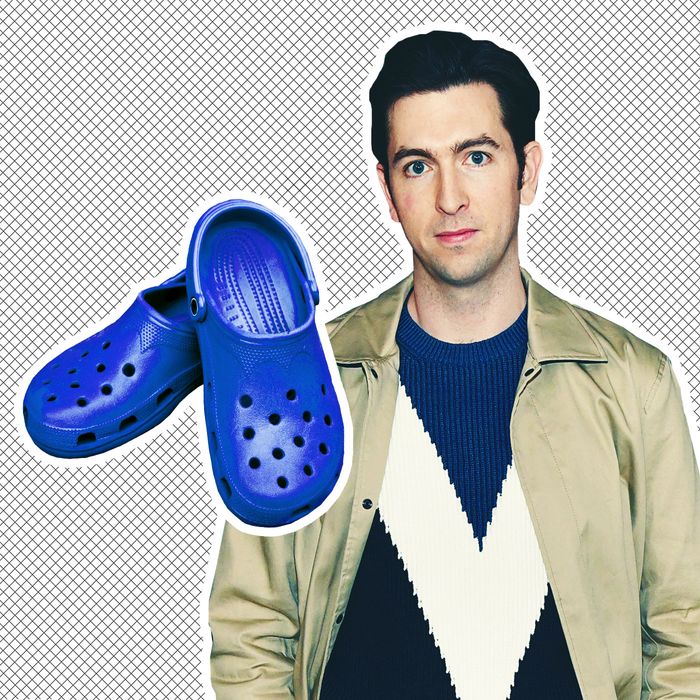 Photo-Illustration: Getty Images
The 2020 Emmy Awards took place virtually on Sunday night. There was no red carpet, and celebrities were free to wear whatever they wanted at home. Some of them got all dressed up; Zendaya even did an outfit change. But others took a more WFH approach; actor Nicholas Braun, who plays Cousin Greg on Succession, wore a navy-blue Paul Smith suit with a pair of matching Crocs. And you know what? He pulled it off! Greg the motherfuckin' Egg.
"I was like, Am I really going to wear some Crocs to the Emmys?" Braun told the Los Angeles Times in an interview. "But honestly, once I popped them on, it just [felt] very right with this tux," he said. For some added pizzazz, he spelled out the word antibodies with Jibbitz — a reference to his viral pandemic single. And he wore socks. "The Crocs are in full effect," he continued. "Socks plus Crocs. Hopefully my feet won't get too sweaty."
If you think about it, Crocs and Cousin Greg are actually a perfect match. Both have been known to raise eyebrows among the loafer-wearing elite for their apparent goofiness. Both have been cast aside as nothings and nobodies. And yet, time and again, they rise, proving themselves worthy of our affection.
Last year, Braun surprised us with his "uncharacteristically suave and extremely sexy" appearance at the Golden Globes. And this year's getup had a similar effect. Perhaps because Crocs are so comfortable, Braun's body language is also relaxed. In a photo shared on Instagram by his stylist, Michael Fisher, he stands casually on his roof with his hands in his pockets, one leg extended in a cool, ¯\_(ツ)_/¯ type of pose. His shirt is unbuttoned and he isn't clean-shaven. In sum, he looks more morning after than night of. And, well, that's pretty hot.