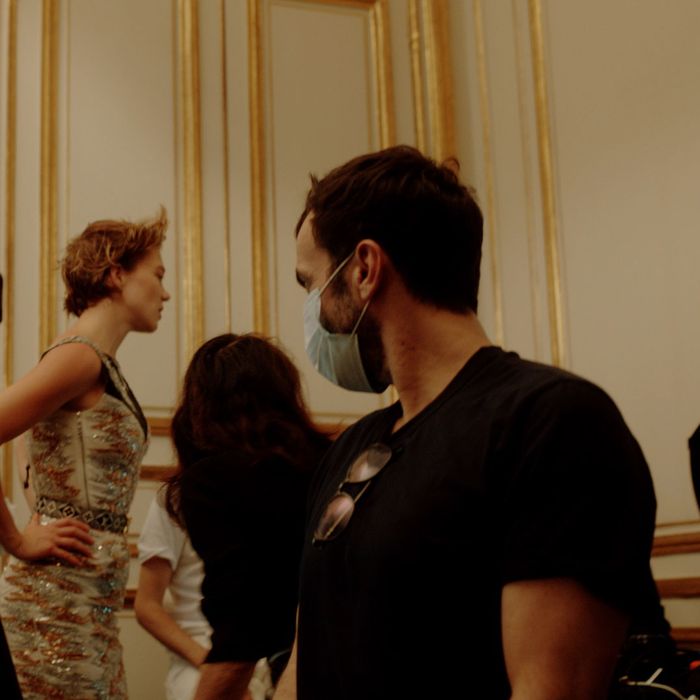 Ghesquière directs and photographs his fall-winter 2020 campaign with actress Léa Seydoux in July.
Photo: Axel Morin
It's striking that two of the most moving shows in recent times, those by Marc Jacobs and Nicolas Ghesquière at Louis Vuitton, essentially took place in large empty boxes. The first involved dancers; the other, choral singers who formed a living wall of figures in historical dress at one end of the Vuitton space. There was no technology, no sets, nothing to break the connection with the audience. As Ghesquière said, "It was about being with people — who were dancing toward you, who were singing at you."
Two weeks after the Vuitton show, which was held in Paris on March 3, people across Europe began to experience what it was like to lose human contact except through screens and phones and the odd aria performed from a neighbor's balcony.
Ghesquière, lean, dark-haired, with a warm smile and a watchful look, is 49. He has been the creative director at Vuitton since 2013, and before that he spent 15 years at Balenciaga turning a magical name that had largely succumbed to the licensing game into a coveted brand with stores and handbags, and also one with a reputation for risk taking.
When we spoke in June, Ghesquière was at an apartment on the Left Bank he uses as an office. His home is about 45 minutes outside of Paris, and he spent the lockdown there with close friends, the stylist and editor Marie-Amélie Sauvé and the designer Julien Dossena of Paco Rabanne. He told me he had gone to Los Angeles soon after the show to help with a friend's wedding dress and to prepare for the Met's Costume Institute gala, of which he was co-chair. He wasn't in L.A. two minutes when he received an urgent call from his friends: "They said, 'Can we go to your house? There's going to be a lockdown.' "
"I said, 'You guys are crazy. It's never going to happen. I'm staying in California. It's so cool to be here.' " Ghesquière smiled. "And then ten days later, I was with them."
They cooked, cleaned, and gardened. They cut down trees. He mentioned a novel by Françoise Sagan, Les Faux–Fuyants, to convey the sense of camaraderie and, as well, the isolation they felt. Titled Evasion in English and set in 1940, the story is about four Parisians who, having escaped to the countryside, don't realize the German occupation has begun.
"We had a lot of nice discussions, long nights, with a lot of drinks," Ghesquière said. "We were questioning ourselves." He echoed what so many of these designers said to me. He and his cohort also bemoaned the loss of creativity at the hands of modern distribution methods. He mentioned Vuitton's shows, which, since the late aughts, when Jacobs was creative director, have typically included huge audiences and some shock-and-awe element, like a real locomotive moving inside the Louvre. "It's crazy to think of the extravagance of what we did for the last decade," he said. "Was it right? Yes, it was right because of the attention that fashion has received. But there are many other reasons why it was not right."
His self-questioning makes sense. Ghesquière's career spans the most disruptive 25 years in fashion's long history. In 2001, Balenciaga was bought by Gucci Group (now Kering) in the fashion sweepstakes led by Bernard Arnault of LVMH and the Pinault family, along with Tom Ford and his partner, Domenico De Sole. In 2005, Ghesquière told Women's Wear Daily, "My big challenge now is to make Balenciaga become a brand and give the feeling that we can feed the stores like a brand." A few years later, though, as if balking, he was holding intimate runway presentations for a relatively select number of editors and buyers.
Ghesquière isn't nostalgic. He is an intensely curious man, as his work tends to show. But his privileged position in fashion over the past two decades has allowed him to see how the power of designers has been dramatically reshaped by newer developments like social media.
To put it another way: When he was creating trend after trend in the first decade of the century, he wasn't worrying about algorithms. "Social media is very reassuring for a lot of businesspeople," he told me. "But what does it mean, exactly? Of course, behind every phone there is a human. But algorithms also drive what people like, what is the moment to do things. I have doubts about the ultimate impact." He wonders if the algorithms will kill the possibility for real emotions, risks, surprise moments.
He broke into a laugh. "If surprises don't exist, then I'm quitting. I'm looking for another job."
As much as designers question the sense of doing megashows, not only in Paris but in cities around the world, the decision to continue with them is not really in their hands. Clients have come to expect them, and, as Miuccia Prada said, if a big brand decides to do them, the others will have to follow. I mentioned Prada's comment to Ghesquière, but he deferred the matter to Michael Burke, the CEO.
"The clients want direct engagement with the houses," Burke told me. "That is not going to change. That is led by technology. They have a phone in their hand, and you're not going to take that phone away from them." Technology is also increasingly localized. "If you don't engage with their social networks, you do not exist." Burke noted that Vuitton recently held its men's spring runway show in Shanghai, where COVID is under control. (Virgil Abloh, the creative director, stayed at home.) "We had ten times more engagement than we ever had in Asia, but the engagement in Europe and America was so-so." The traveling runway show, he said, is the future.
So are designers still the magnet?
"Absolutely," Burke said. "The industry relies on that. It's very hierarchical. That's another pet peeve of a lot of people — they think that hierarchy is negative … The luxury and fashion business is based on hierarchy, and per se that is not a problem. The problem is when we close it off and we refuse promotions, we refuse foreigners and different cultures. When a Virgil is accepted, when a Karl Lagerfeld, a German, is accepted, or when we brought in John Galliano — those are absolute signs of the vitality of the hierarchy."
*A version of this article appears in the August 31, 2020, issue of New York Magazine. Subscribe Now!