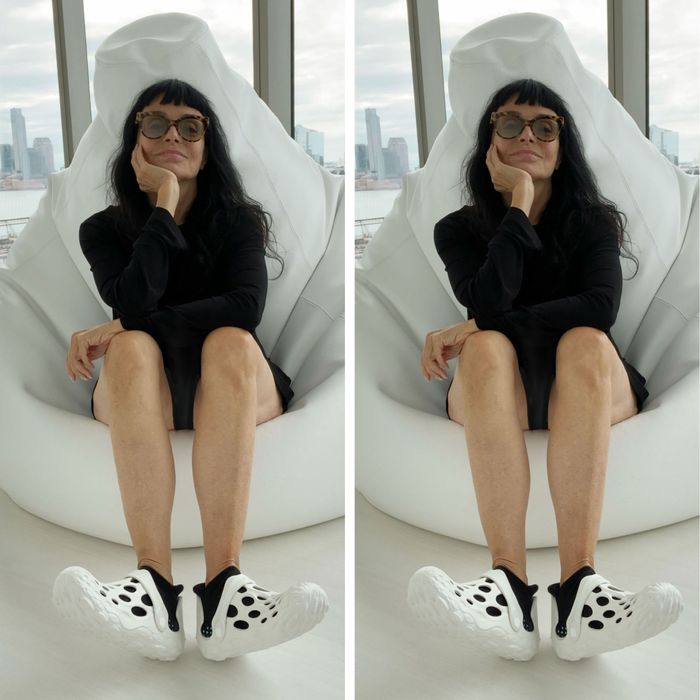 Photo: Courtesy of Norma Kamali
Fashion, like everything else, is in flux right now. No one can confidently say what's going to happen next, which is unusual considering that's what fashion people tend to do best. In August, a New York Times Magazine cover story titled "Sweatpants Forever" detailed the collapse of the industry as we know it, positioning Entireworld, a small direct-to-consumer basics label, as a model for a way forward. A month later, the same paper's Styles section ran a self-reflexive follow-up headline: "Sweatpants Are Not Forever."
In the middle of all this is Norma Kamali, a New York–based designer who has been making everything from sweatpants to swimsuits to sleeping-bag coats since 1969. In July, a month after turning 75, she put out her umpteenth pre-fall collection, and it was one of her strongest to date. (She agrees.) Inspired in part by her groundbreaking all-gray sweats collection from 1979, it was a reminder that Kamali has been making clothes that people want to live in since well before Entireworld was born — and running her business in a similar way, too. She stopped selling to department stores 15 years ago, for example, and thinks runway shows are a waste of money, at least for her. "I just do what I do, and do it well," she told me. It's a mantra that's helped her business survive all these years, through 9/11, the recession, and now this.
In the few years that I've worked in fashion, Norma Kamali has served as something of a North Star; a sturdy tentpole in an always-tumultuous industry. She has decades of wisdom under her belt and is unusually generous when it comes to sharing it. (Rachel Comey, who runs a similarly tight ship, is one of her many mentees.) So, I figured: Who better to call in the middle of an industrywide panic over sweatpants? Below, our conversation over Zoom about how to stay cool, calm, and collected in these absolutely bonkers times.
It's so good to see you, Norma. How are you? What's new?
In all the decades that I've been an adult, I've never experienced anything like this, ever. Nothing near it. So my attitude has just been: Let's regroup and rethink. This isn't just some blip; it's going to be at least a year, which is a long time for new habits and behaviors to become ingrained. I don't know about you, but because I was home so much, I got used to not wearing any shoes. None. So when I visited my closet again and looked at my high heels, I thought, Girl, I don't know if I'm putting my feet in that kind of shoe ever again. I just couldn't connect them to what was important, and they have so many old-fashioned ideas attached to them. I've been wearing those [Hydro Moc] Merrells now. All these molded shoes are amazing. They're all under $100, which is why they keep selling out. I just think this is how shoes should be made going forward. So when we did the pre-fall look book, I wanted all the models to have comfortable, modern shoes on.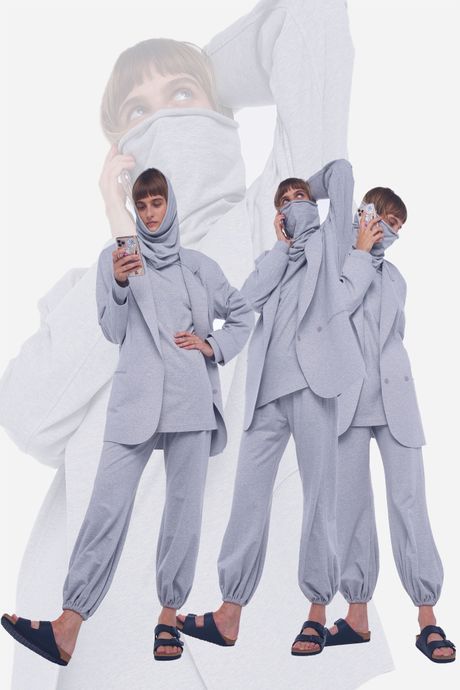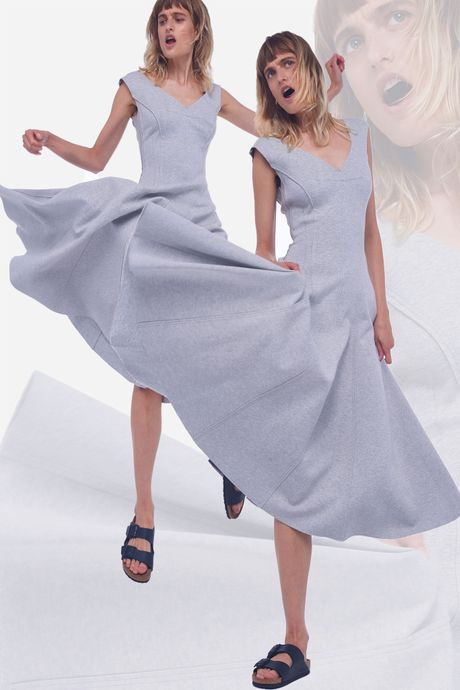 Let's talk about that collection. I loved it. It came at the perfect time: right after "phygital Fashion Week" in July. I'd seen so many films and images from brands, and I was inspired by a few of them in terms of the ideas that they presented. But when I saw your look book, with the models dancing around in tailored blazers made of sweatshirt material and Birkenstocks, I was like, 'Wait, this is actually what I want to wear in real life.' You even thought to make scarves and hats for covering up neglected roots.
I love that collection so much because it's also what I want to wear, and I don't see it as fashion; I see it as sustainable clothing that you'll have forever. That collection has roots in my history, in my DNA. In 1979, I did a line of cover-ups for my swimwear in gray sweatshirt material. From when I was a kid, I always wore my brother's gray sweatshirt when I got out of the water. So I did swimwear cover-ups, but I also did tops, and jackets, and dresses, and evening gowns. You name it. Suits, everything in this gray terry fabric. That collection, I think, was the beginning of athleisure, or that type of dressing. It's comfortable. It's cool. You can accessorize it any way you want. And it's not going to be out of style anytime soon. It's lasted, for me, since 1979!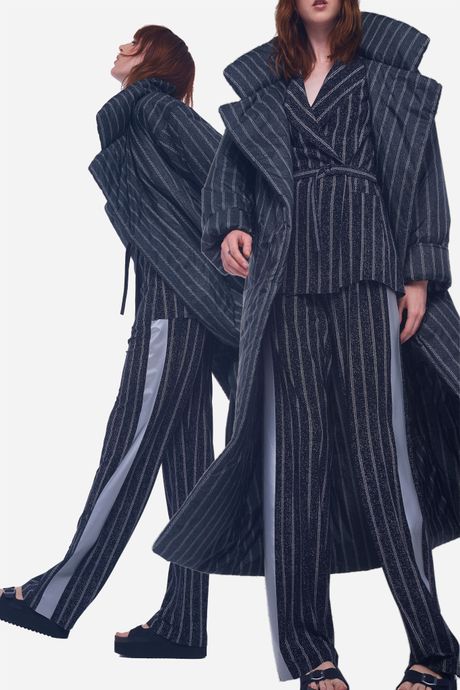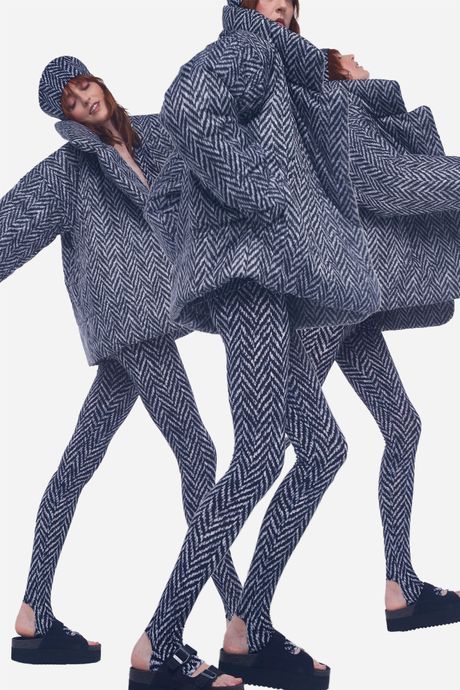 It's true. Everyone has been buying sweatpants. But what I love about your clothes is that they don't make you choose between minimalism and maximalism. There's so much personality and energy to them. You could wear them on the couch or to a nightclub like Studio 54. Have you seen an increase in sales at all? You told Vogue in July: "We're selling tracksuits like we're giving them away."
We've always had tracksuits in the line, and they're dated by season as collectibles. But they fit the moment so well. We are selling them now in every print, color, and size.
Our increases really came from hunkering down, looking at what people were buying, and producing all the collections. We made adjustments, obviously. Anything you had to wear heels with, I was like, We're not making that. No, no, no. But we shipped everything on time. Every season. Everything! When it was time to deliver the spring collection [this year], and everyone said they were canceling all their orders, I said 'Nuh-uh.' We really talked and talked with [the retailers] about them taking it. Eventually, they took it, and there was no other merchandise for them to sell, so they sold it. And then they wanted pre-fall, and we had it. Then they wanted fall, and we had it.
What did you think about the "Sweatpants Forever" article in the Times? When I read it, I thought, Well, I should start looking for another job. But I also thought: Norma has been doing this forever. And I don't just mean designing fun sweatpants — but also finding a business model that works for you. 
I have some thoughts. For me, I never wanted to be the richest or the most famous designer. I just wanted to have a creative life and sustain. When [the pandemic] happened, the first thing I did was have a call every hour on the hour with each team in my company. We looked at everything that was happening in each area, whether it was wholesale or e-commerce, and we looked at what was working and what wasn't. The one thing that I felt was in my favor was that if you're in that $25–50 million [size] zone, it was always the worst place to be in fashion, but that's where I've always been. When you're in that world, you survive, and you don't get sucked into this noisy cycle. I don't do fashion shows. I've never paid people to wear my clothes. I stopped selling to department stores 15 years ago. I was happy being quieter, not so famous, not so rich, doing what I love to do, paying my rent. I'm happy here.
It takes a certain personality to have that goal. Maybe it's not a fashion personality, or whatever — it's sort of rock star-y. But I think if people in the industry started looking at this no man's land that everyone's stayed away from with a fresh eye, they'd see that there's a lot of benefit to being in the middle.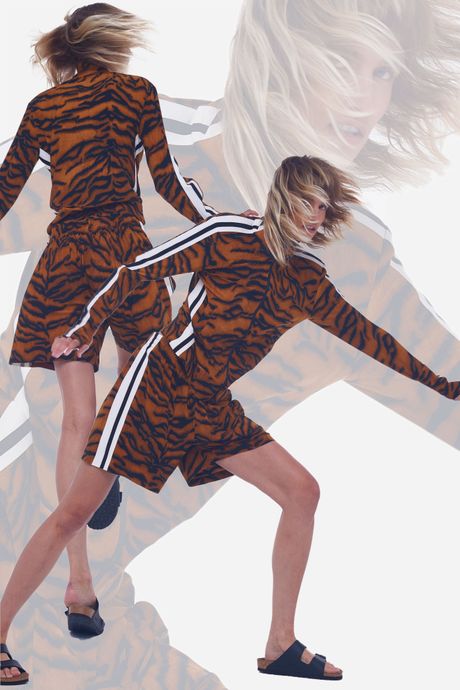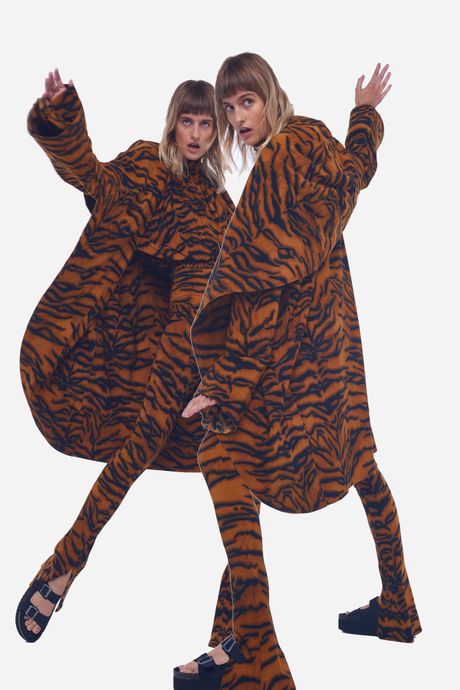 Beyond fashion, I think a lot of people are trying to focus their attention right now on what matters to them, what they really want and need. How do you stay so focused and not get pulled in a million different directions?
Something I saw early on, especially the good 14–15 years that I was hand-to-mouth struggling along, was designers becoming famous and very popular for what they were doing … and then disappearing. Then someone else would become famous and popular, and everybody would want to design like they did, and then they would disappear. It just kept happening, and I kept thinking: That's not what I want. That's not good. I realized that I have to be relevant, but no matter what, I just have to be me. I have to make clothes that are timeless, that function, that serve a purpose, and that make people happy and feel good about themselves. Anytime that I would get tempted, like, Oh, I wish that … I'd stop myself and be like, No, you don't wish that. Because you may disappear. It's like meditation: Don't go there! Come back! Focus! So many of the things I've done, I still do. I'm making some swimsuits from the '70s, and they're some of my best sellers. It's crazy. I've been making the sleeping-bag coat since the '70s. The sweats since the '80s. It paid off. If I just do what I do, and I do it well.
It's funny, the other day I was suddenly overwhelmed by the desire for a sleeping-bag coat. It's exactly what I want to wear this year when it gets cold in New York, and we have to hang out outside. 
The sleeping-bag coat has somehow managed to service good times and bad — from standing outside Studio 54, to after 9/11, to now. Not to sound too dramatic, but feeling as though someone has their arms wrapped around you isn't happening so easily these days. The sleeping-bag coat does that year after year, and it never lets you down!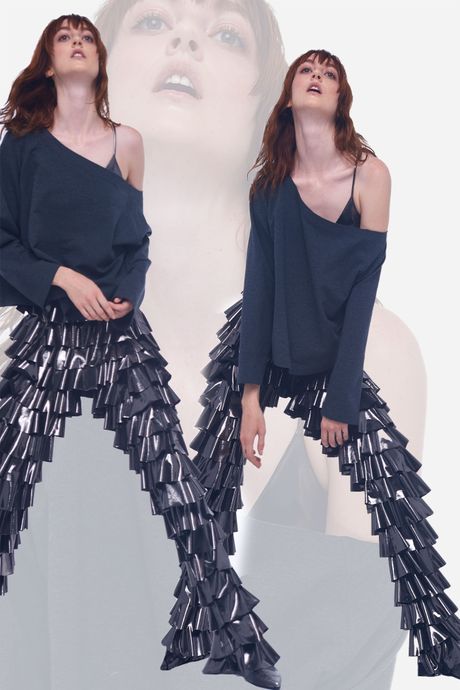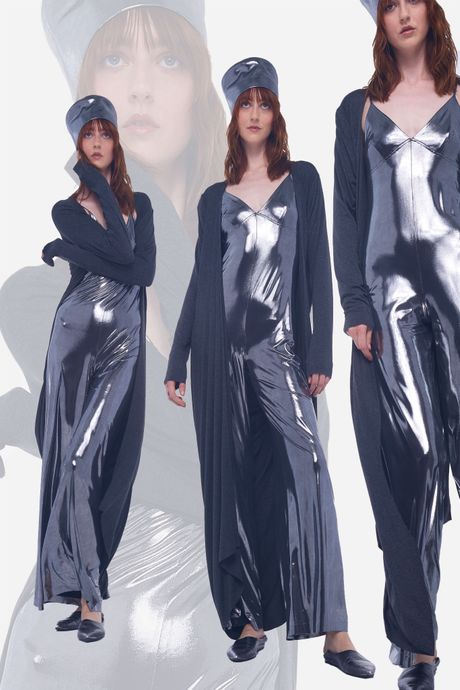 Looking ahead, where do you see fashion going in the next 5–10 years? 
It's going to be tough. I do think a lot of companies aren't coming back. I do think a lot of the traditional magazines and media will have to really rethink what they're communicating. Are they having to create news that doesn't exist to have people read what they're writing? Or are they going to be more intelligent? It's not about a color. It's not about a hem length. It's not about a style. I think it's going to be more about technology — how clothes are made, their function, their performance. How they serve our physical and mental wellbeing, our lifestyle. Like, we're taking our shoes off, but we still have these frickin' bras on that are not comfortable. This has to be dealt with. It's on my list. Enough already, you know! Smashed boobs in a sports bra? Like, what the hell? How can this be?
Besides fashion, what else have you been working on?
I've been writing this book forever, and I'm happy to say it's finally coming out in February 2021! It's called I Am Invincible, and it's about the evolution of a woman through different decades in her life. I talk about what happens in each one, and how you can deal with it. It's like a handbook on aging with power. My boyfriend and I met when I was 65. On my 75th birthday [which was in June], he proposed. So, I'm getting married!
Oh my god! That's amazing! Congratulations. 
It's probably going to be a Zoom-ish-type wedding. Everyone is asking me what I'm going to wear, and I said: Sweats! No shoes, no heels. I don't think a wedding gown is appropriate right now. I think what feels comfortable is appropriate. And I love sweats. They make me feel good, and there's a lot of ways to do them. Everyone can wear sweatpants, and drink whatever they want. That's what I'm going to say on my invitation.