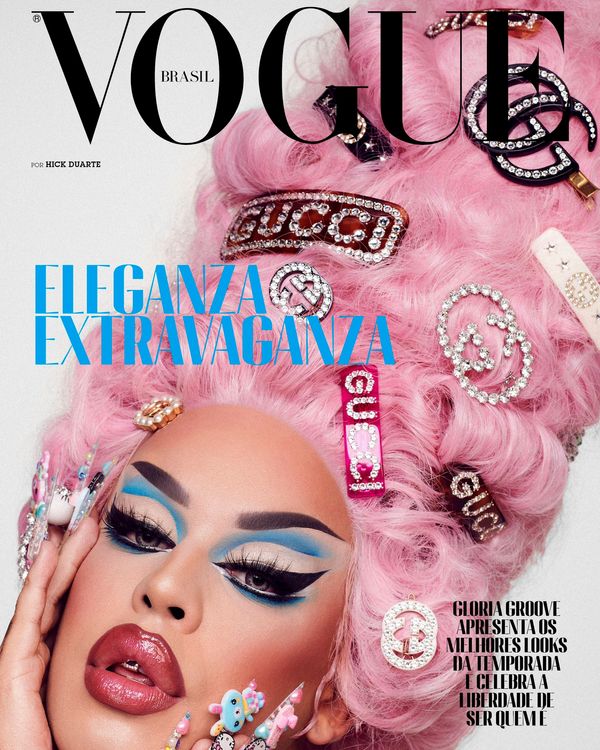 Gloria Groove.
Photo: Vogue Brasil
If you needed any more proof that drag queens are fashion icons, Vogue Brasil has made a compelling case by putting not one but two on their own covers for October — a first for any Vogue publication.
Titled "Eleganza Extravaganza," the issue features singer Pabllo Vittar and rapper Gloria Groove shot by Hick Duarte. Vittar is the most decorated drag queen in music ever, with multiple accolades from MTV, a Latin Grammy nomination, and over 10 million followers on Instagram (the most of any drag queen in the world). Groove is about to make her global debut in November — she landed a hosting gig on Netflix's new show A Queen Is Born, on which she'll help transform new queens into working professionals. "I am living a dream, and I am thrilled with the invitation, because being here positions drag queens as fashion icons," she told Vogue Brasil.
The covers have come out during a particularly important moment in Brazil. LGBTQ+ issues remain divisive in the nation, especially for trans people. Under the current administration, Brazil's right-wing president, Jair Bolsonaro, regularly speaks out against "gender ideology," a conservative term used to condemn progressive ideas on sex and gender. Still, the South American country has seen some victories for the community. Last year, its Supreme Court ruled that transphobia and homophobia are criminal offenses, and a ruling in 2018 allowed trans people to change their name and gender on official documents without undergoing surgery. "It's not wrong for you to love yourself, to take care of yourself," Vittar said in the issue. "People will have to learn to respect you for who you are."
This isn't the first time Vogue Brasil has put a drag artist on the cover. Last September, Uyra Sodoma was one of four activists featured. Your move, American Vogue.