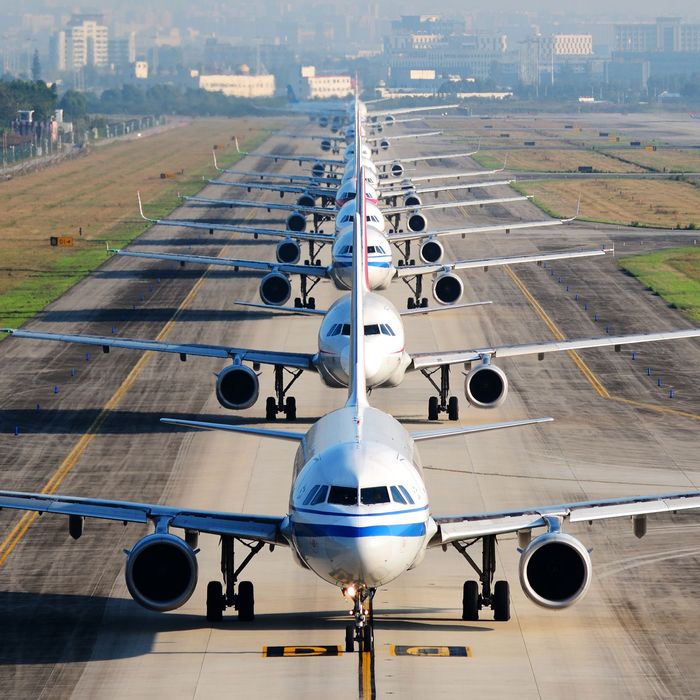 Photo: Jingyin/Getty Images
There's plenty I don't miss about air travel: paying for the ticket, watching Bohemian Rhapsody on a neck rest, getting tricked into a conversation with a stranger about their work-life balance, eating food that seems to have mostly evaporated already. Lately, I'd add to that list sitting in a metal cylinder with hundreds of people and their personal aerosols for hours. Literally the only redeeming factor, the only thing that could make it all worth it, is being somewhere else when it's all over. And yet.
The New York Times reports that thousands of people in Brunei, Japan, Taiwan, and Australia have purchased so-called "scenic flights," which is exactly what it sounds like: You fly around a while on a commercial airplane then land exactly where you started. This trendy fake air travel has been reportedly selling out, mostly to frequent fliers who miss the rhythm of their pre-pandemic lives. Royal Brunei Airlines for instance is offering a dine-and-fly program where customers enjoy catered meals of local cuisine as they explore Brunei's pristine fly zone. Passengers are reportedly not required to wear masks because the country has had very few COVID cases. One passenger, Nadzri Harif, told the Times of the experience, "I didn't realize how much I'd missed traveling — missed flying — until the moment the captain's voice came on the speaker with the welcome and safety announcement."
Sydney-based Quantas Airlines also recently offered a seven-hour scenic flight over Australia that sold out in minutes. Tickets ranged from about $575 to $2,765. Japan's All Nippon Airways undertook a Hawaiian resort–theme flight with 300 passengers that went nowhere. The Taiwanese airline Starlux has operated six flights to nowhere since the start of the pandemic and has about a dozen more planned through the end of October. The bulk of these spiraling voyages have sold out in under ten minutes. Unlike some of their competitors, social-distancing compliance and mask-wearing are required of passengers as well as crew.
Katie Chao, a spokesperson for Starlux, told the Times that they've been enticing customers by making the experience seem more luxurious. They'll sell packages that include the fight plus a few nights at a hotel, for instance, or go above and beyond to entertain their clients as they board their meandering passage to the sky. "We try to provide a different and fun event at the boarding gate," said Chao. "We also arrange some special decorations in-flight. And, of course, a special-made giveaway to go with the theme each time is a must."
What are the drawbacks? Assuming spending hundreds, possibly thousands, of dollars to pass an afternoon tethered to a cushion in a cold, arid room some 30,000 feet above the Australian outback is just the sort of thing you like? Well, flying is terrible for our crumbling climate, and environmental groups have spared no time in venting their frustrations on social media. According to the Times, global aviation emissions amounted to 918 million tons of carbon dioxide in 2018 alone. Last year, the Times reported that air travel accounts for 2.5 percent of global carbon dioxide emissions and that this figure could grow rapidly over the next few decades.
Also, is it really good to get everything one wants down to the most minute specifications? A question to ponder as I sit on Earth with my virtual copy of the Times.