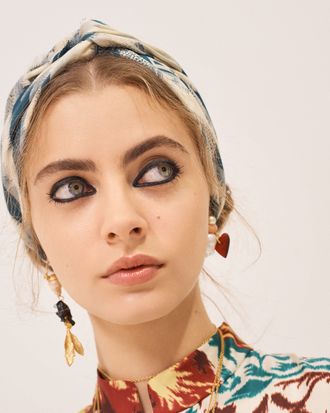 Photo: Sophie Tajan for Christian Dior Parfums/
Peter Philips, creative and image director for Dior Makeup, is quite the problem-solver when armed with eyeliner. Bad at cat's-eyes? Just scribble over them. Puny lower lashes? Just draw on really thick ones. Your liner hack for spring 2021: If your eyeballs are looking a little dull, try tracing dark circles around them. It's an unexpected eye-brightening effect no one will see coming.
Philips borrowed this nifty little trick from the venue where Dior's spring-2021 fashion show took place: a room full of vibrant stained-glass windows that popped against the black walls. Inspired by the black leadwork seen in stained-glass art, Philips created a look that framed eyes so they become the little pieces of colorful glass shimmering in a Gothic cathedral somewhere. "With strong black eye makeup, the light comes from the eyes," he explained backstage.
Instead of going to town on the entire eye area like Little J or someone in skeleton cosplay, the key is to keep the liner contained to the lids. Philips used the new ultradark Diorshow 24H Stylo in 091 Matte Black to draw along the upper and lower lash lines, creating a crisp line that was uniform, balanced, and "neither thin nor thick." Also, no open wings or flicks at the outer corners. ("We didn't want it to look too retro.") Lashes were coated in Diorshow Iconic Overcurl mascara for extra emphasis, and the rest of the look was nice and simple, keeping all eyes on the eyes.
Using this much eyeliner on your waterline can feel a bit daunting, since that area is notoriously fussy, but rest assured, this look is both waterproof and designed for 24-hour wear. If you find yourself full on emotionally crying while wearing it, don't worry — worst-case scenario, you'll just end up with superchic black tears, which happen to be completely on trend for fall 2020.