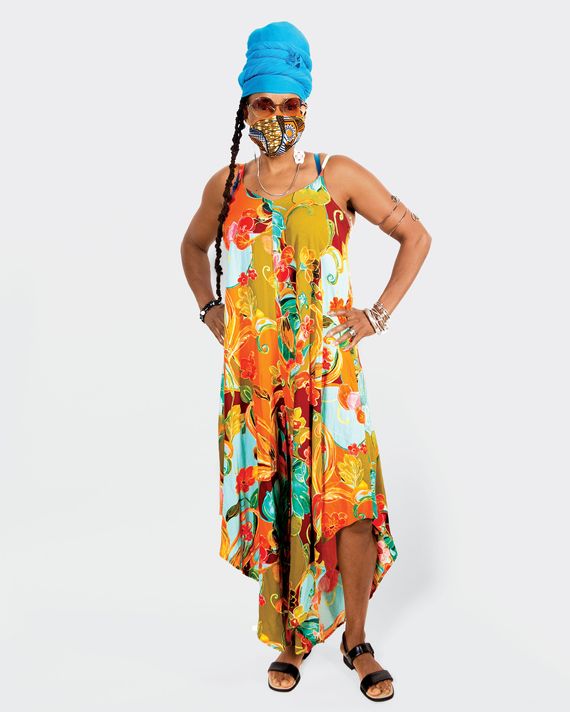 Cynthia King-Sumner (pictured above), Retired high-school math teacher, Freeport
What brought you to the Met today? 
My husband's 49th birthday. What else are you going to do for someone's birthday right now? He's an art teacher, so I guess some people would say that was a corny pick, but we love the Met. It means the world to me. I've been on this earth all of these years, I've traveled to Easter Island, I've been to Jordan all by myself. But the Met is more than a flight somewhere. It is an all-encompassing display of what was and what is and the possibilities for the future. Life has got it going on. You go in there and it's just … it's an international, galactic trip. It has everything you ever needed or want. It pleases me to no end. It fills my appetite.
What are you doing afterward?
Back to the Moja Sun resort. That's what we've been calling our house during quarantine. 
Weijin Wang, Engineer, Jersey City, New Jersey
What piece of art did you miss the most?
I came to visit the statue of Queen Hatsheput. Before the pandemic, I came to see her often — she was a pharaoh, and you can see this amazing sense of calm in her face. She was moved to the second floor during the closure, so I had to ask the staff for help finding her.
Nannette Nesbitt, Nonprofit manager, East Village
How long did you stay? 
Six hours. I was reconnecting with pieces that before the pandemic I would visit often: the Japanese collections; the Southeast Asian collections; the Indian collections. Six hours is different at the museum when there's no café — you can't get a snack or tea. There's only a stand-up water bar now.
Christian Virgil Reyes, Artist, Washington Heights
Did the museum feel normal?
I don't want to get so artsy about it, but being there almost felt almost like a piece of performance art — everyone walking around trying to pretend that everything is normal and the same, except it's not and everyone is in a mask.
Babi Byambatsogt, Fashion designer, Jersey City, New Jersey
You're a designer?
Yes. Last year, I displayed my work here, actually. They asked fashion students to design one look based on the Met Gala's theme, which, last year, was "camp." I made what I called a "pussy dress." It was huge and ruffled, white and neon green, with a sheer organza leopard-print skirt.
*A version of this article appears in the September 14, 2020, issue of New York Magazine. Subscribe Now!