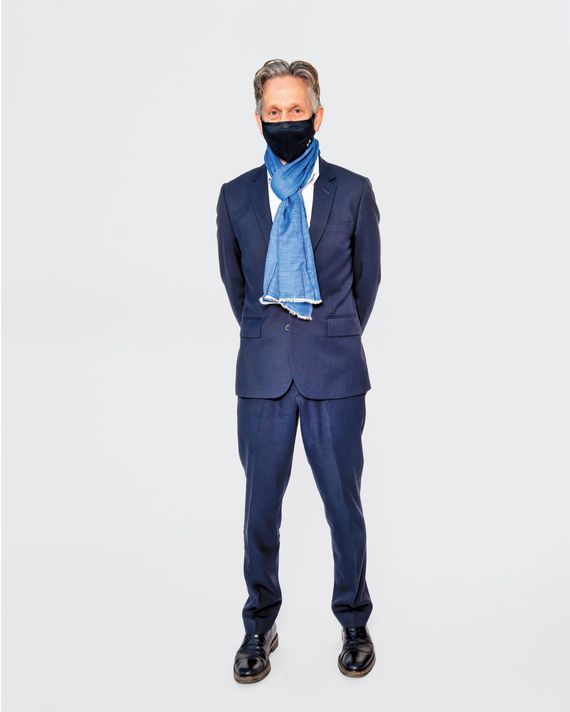 Steven Estok.
Photo: Rochelle Brock
The New Shul is a "progressive, inclusive, independent, and egalitarian" congregation led by Rabbi Misha Shulman.
Steven Estok (pictured above), Studio director, Chelsea.
The service just finished. How was it?
Spectacular. Most people had to do their Rosh Hashanah services online. So when we got the invitation to this service, in real life, on a farm, we were like, Oh my God, absolutely, sounds amazing. The service was broadcast on Zoom, too, though. And that's how we found out about Ruth Bader Ginsburg.
How?
Well, none of us in person had our phones on us. Rabbi Misha had just turned to the congregation; he was asking if anyone wanted to say the name of someone they were in mourning for. And someone watching on Zoom said, "Ruth Bader Ginsburg." I couldn't believe my ears. And then someone else said it: "Ruth." And I was like, Oh my God. Oh my God, she died.
Have you known Rabbi Misha long?
He's brand new; this was his first service. He was calm and kind, and it was a nourishing experience to be with him and his musicians.
What was the best part of the evening?
I will start with the cake. I of course love the community, but someone brought a cake — it was a saffron-olive cake with pine nuts. It was the highlight of my service.
Is the New Shul your normal synagogue?
Usually, we go to a temple near our apartment in Chelsea, but I heard about this and knew my daughter and I had to go. I'm a single parent, out of work, and we don't have a car, so we had to take the train and the bus and the LIRR to get here. It was worth it: It was a golden, golden evening.
What was your favorite part of the service?
Rabbi Misha began by invoking Nietzsche's statement that "God is dead." I thought that was audacious. And it's a notion that has probably occurred to a lot of us lately.
*A version of this article appears in the September 28, 2020, issue of New York Magazine. Subscribe Now!