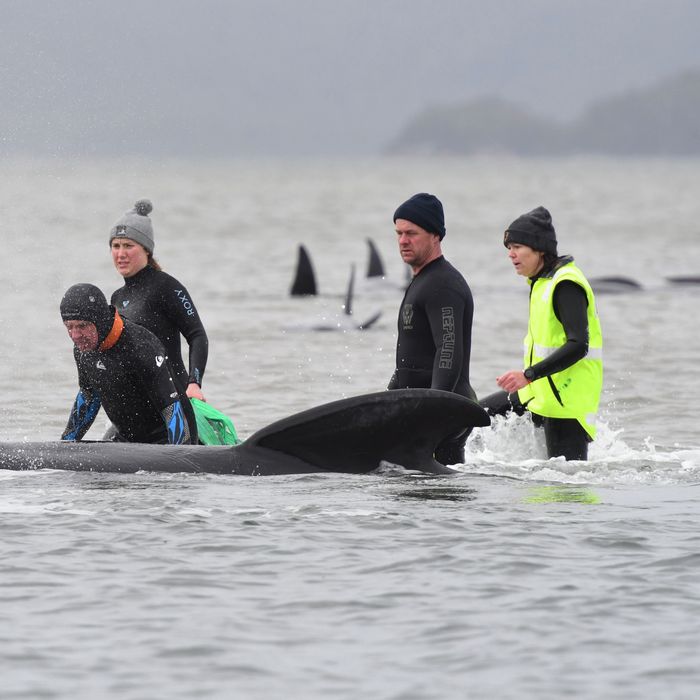 Rescuers working to save a pod of whales stranded on a sandbar on the coast of Tasmania this week.
Photo: POOL/AFP via Getty Images
Hundreds of whales have died along the coast of Tasmania this week, in what experts are calling Australia's biggest-ever mass-stranding event.
It all started on Monday, when roughly 270 whales were found trapped on a sandbar. Over a third of those whales have already died, and about 50 were saved, as rescuers pulled them off sandbanks and back into open water by boat. By Wednesday, another group of 200 whales had been discovered in a bay less than six miles away from the first sandbar. Now, estimates put the number of dead whales at 380, with around 500 in total stranded.
According to NBC News, whales stranding themselves on beaches and sandbars is somewhat common in Tasmania, but Monday's pod was the largest that had washed up on shore in years. "To see a stranding like this is not unusual," explained wildlife scientist Vanessa Pirotta. "It just doesn't happen every day."
It's unclear why exactly these whales washed up on the shore this week, but as Nicola Hodgins, policy manager for the British charity Whale and Dolphin Conservation, told NBC News that pilot whales are an exceptionally sociable species. That means that if even one gets sick, lost, or strands itself on a sandbar, others will follow.
"They will not allow an animal to be sent off to die on its own," she said. "It's just probably one of the strongest social bondings of any species."
Their social bonds are so strong, in fact, that two of the whales who were rescued on Tuesday swam back to the site of the stranding. (Nic Deka, the coordinator of the rescue from Tasmania Parks and Wildlife Service, reassured the Guardian that "the majority of the whales [we saved] are still out in deep water and are still swimming. We have been more successful than not.")
As for what rescuers will do with the deceased whales, Deka says they are considering different options, including burying them in a landfill, or pulling them out to open water, far from the shore.
Unfortunately, there's not much that can be done to prevent strandings like this in the future, Dr. Kris Carlyon, a marine conservation program wildlife biologist, told the Guardian. "There's nothing to indicate that this [stranding] is human caused. This is a natural event, and we know strandings have occurred before and we know that from the fossil record."
This all sounds very bleak. If you would like some happier whale news, maybe check in on the beautiful belugas who were recently returned to the sea after being trapped for years in captivity, or cheer yourself up by remembering that whales and dolphins love to gossip.