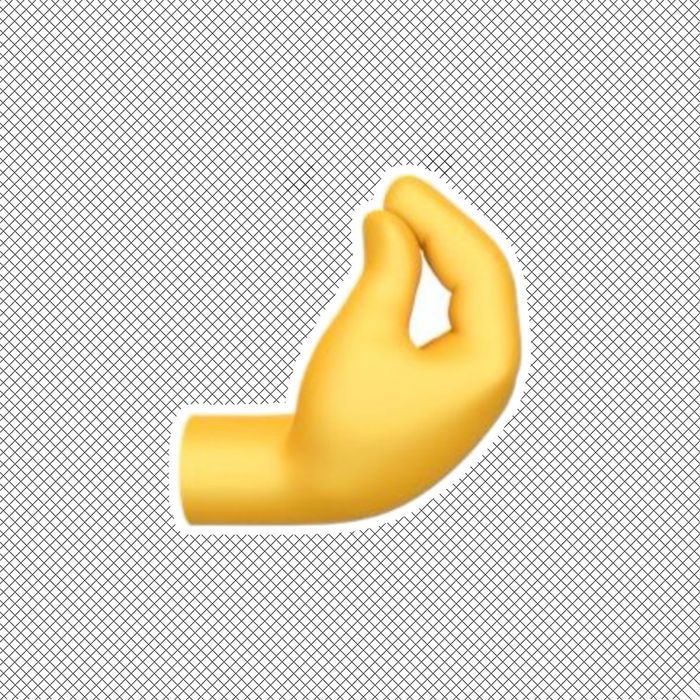 It's always an exciting day when new emoji are released, and today's emoji drop, which you can get with iOS 14.2, was excellent. MacRumors notes that it contains 55 gender and skin-tone variants, as well as gender-inclusive emoji, like Mx Claus and men feeding babies. Other highlights include a very wet olive, a boulder, an alluring seal, and a whole host of prehistoric creatures (including a dodo bird and a mammoth). My personal favorite is a gently smiling emoji with a single tear.
When the emoji news surfaced in our work Slack today, my colleague, Emilia Petrarca, expressed her excitement over one particular emoji. "Finally, some Italian-hand-gesture representation," she said in response to the pinched fingers extended upward. I've since learned that this gesture is called mano a borsa ("purse hand") and, according to this lengthy 1995 research paper, means something like "What do you want?," "What are you saying?," or "What is your point?"
However, it was quickly pointed out that this new emoji is likely not going to be used in the context it should be. Indeed, in the MacRumors comments section, several users commented on the fact that "the eggplant and peach suffice," leading me to believe that mano a borsa will go the way of those emoji, which is to the land of trash sexts and "You up?"
But I implore you: Don't. Just don't. Mano a borsa is not a sexting emoji, and if you think you should be doing "purse hand" anywhere near a vagina, I'm telling you now, very kindly, that in many cases you should not be. What's more, its original usage — asking people to get to the fucking point — is so relevant I would hate for its meaning to become permanently misconstrued. Fingers crossed the next round of emoji will include sex toys so we can stop abusing fruits, vegetables, and blameless Italian hand gestures.