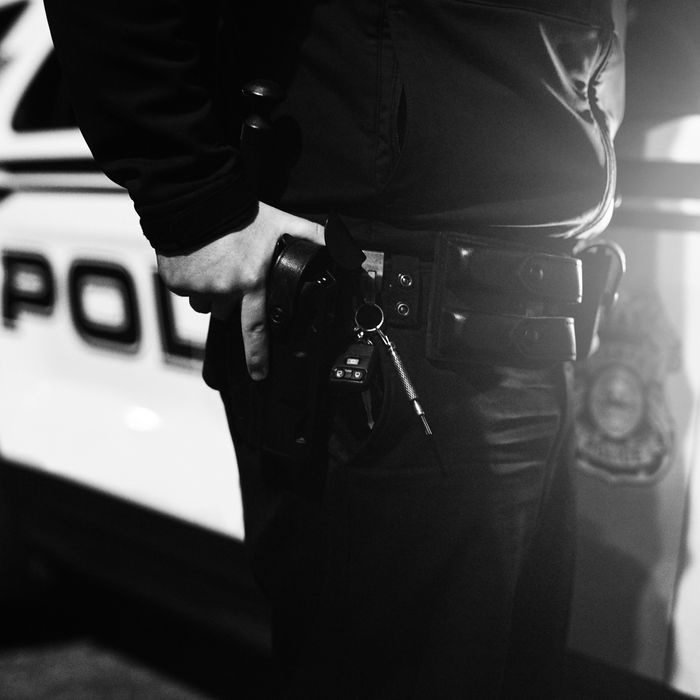 Photo: PeopleImages/Getty Images
When Golda Barton's 13-year-old son, who has Asperger syndrome, was suffering a mental-health crisis last Friday night, she did what many Americans do in the face of an emergency: She called 911. Specifically, she says, she called and asked for a crisis-intervention team to escort her son to a hospital. Instead, Salt Lake City police officers arrived on the scene, and an officer repeatedly shot her son as he tried to run away. The child, Linden Cameron, is currently in serious condition.
In an interview with KUTV, Barton — who lives in Glendale, Utah — said that she had been staying home from work for the past year because of Cameron's severe separation anxiety. Last Friday was her first day back at work, and Barton reported that, when she got home, her son suffered a mental breakdown. Barton said she told the 911 operator that Cameron was "unarmed, he doesn't have anything, he just gets mad and he starts yelling and screaming." She added: "He's a kid; he's trying to get attention. He doesn't know how to regulate."
When two Salt Lake City officers arrived on the scene, they instructed Barton to wait outside before they entered the front door of her home. Then, less than five minutes later, Barton says she heard an officer say, "get down on the ground," followed by a flurry of gunshots. According to a GoFundMe that Barton created to raise money for her son's medical bills, Cameron is still recovering in the hospital after sustaining serious injuries to his intestines, bladder, shoulder, and both ankles.
In a news briefing the night of the shooting, a Salt Lake City Police spokesman suggested that the responding officers believed that Cameron had a weapon on him. Police Sgt. Keith Horrocks offered a similar justification, saying that officers received reports that Cameron was having "a psychotic episode," and that he "had made threats to some folks with a weapon." Since then, the case has been transferred to outside investigators, who will be tasked with analyzing body-camera footage. A weapon was never discovered at Barton's house.
"Why didn't they tase him? Why didn't they shoot him with a rubber bullet?" Barton said through tears on KUTV. "You are big police officers with massive amounts of resources. Come on. Give me a break."
In the aftermath of the shooting, mental-health and criminal-justice-reform advocates alike have pointed to the incident as further proof that law enforcement is inept at handling mental-health crises. "Police were called because help was needed, but instead, more harm was done when officers from the SLPD expected a 13-year-old experiencing a mental health episode to act calmer and collected than adult trained officers," Neurodiverse Utah, a grassroots organization that an promotes autism acceptance, said in a statement. Encounters between law enforcement and those who suffer from mental illness often turn deadly: In 2015, the Washington Post found that one in four people who were killed by a police officer suffered from a serious mental illness.