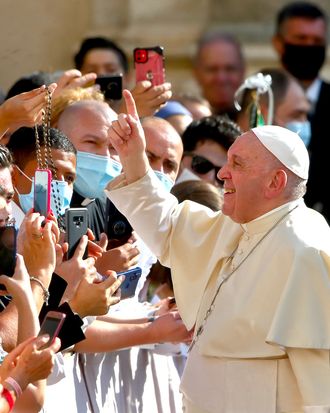 Hell yes, father.
Photo: Mondadori Portfolio/Mondadori Portfolio via Getty Im
The pope apparently loathes the "verbal violence" of the internet, and has little patience for rumors and "tittle-tattle," but you know what he can potentially get behind? Eating and sex. Okay, pope, say more.
According to the New York Post, Pope Francis shared his thoughts on these two topics with Italian writer Carlo Petrini in a series of interviews for Petrini's book, TerraFutura: Conversations With Pope Francis on Integral Ecology.
"Pleasure arrives directly from God. It is neither Catholic nor Christian nor anything else; it is simply divine," Francis reportedly explained. "The pleasure of eating and sexual pleasure come from God." Therefore, the pope reportedly concluded, it is perfectly okay to enjoy sex and food; indeed, the church's past agenda on this score pushed an "overzealous morality" that has "caused enormous harm, which can still be felt strongly today," he said, per the Post.
"The pleasure of eating is there to keep you healthy by eating," the pope noted, "just like sexual pleasure is there to make love more beautiful and guarantee the perpetuation of the species."
In the grand scheme of popes, Pope Francis is comparatively liberal, but the Post notes that his view is not totally out of line with previous papal positions on pleasure as a concept. This is not like the time he allegedly went rogue and declared that hell doesn't exist. Maybe this is just how the pope explains his enduring love of pizza, even pizza parties, to himself. Or maybe he would simply prefer to channel his energy toward defeating his two greatest enemies: climate change and gossip.