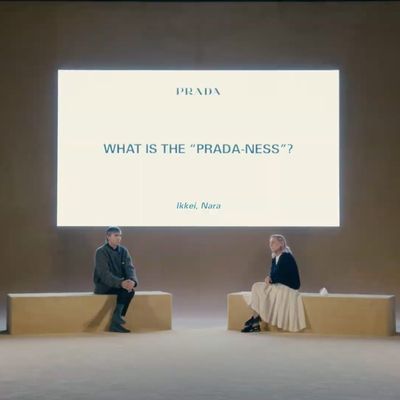 Allore! The time has finally come. On Thursday morning, Miuccia Prada and Raf Simons debuted their first collection together, and it was historic in so many ways. Historic because this is the first time two powerhouse designers have agreed to share the top job, as opposed to just collaborating once and then going their separate ways. Historic because we're in the midst of a global pandemic, which meant the show had no audience in Milan, and was presented via livestream instead. And historic because well, have you ever seen anything else like it???
Cathy Horyn will break down the collection in her upcoming review. But to set the stage a little bit: The big question going into this was how these two titans of industry, who each have their own, very, very specific, and sometimes overlapping aesthetic, put their heads together on a collection that felt cohesive, and, one would hope, true to the Prada DNA — while still being fresh and new. It was a tall order, and it could have gone in so many different ways. But they somehow achieved a sense of balance in the end — a riveting back-and-forth dialogue.
After the show, Simons and Prada sat down for an actual conversation, where they answered pre-submitted questions from fans. One of them, sent in by someone named Ikkei from Nara, Japan, got to the heart of the matter. "What is the Prada-ness?" they asked, presumably directed at Simons. The designer said it was something he asks himself a lot, too, as an outsider looking in, but also as a longtime fan — someone who's been following Prada for 25-something years, even before he had his own label.
"I've always seen it as a community that has a very specific attitude, intellect, aesthetic," he said. "The one thing that you can't really define is what it is, but you feel it is. It exists. It's present. It's clearly there. That's a very important thing for me. It's also what I like very much about fashion brands. I think most people know, from previous talks and interviews, that I am very specific, and I like a very little amount of brands. That is what a brand needs to have for me to love it: the -ness."
What do you think? Did you feel the -ness? Watching the two of them sit there, each in their own personal uniform — their indefatigable -ness — the space in-between was full of possibility.
Watch the full Prada spring/summer 2021 livestream, below.