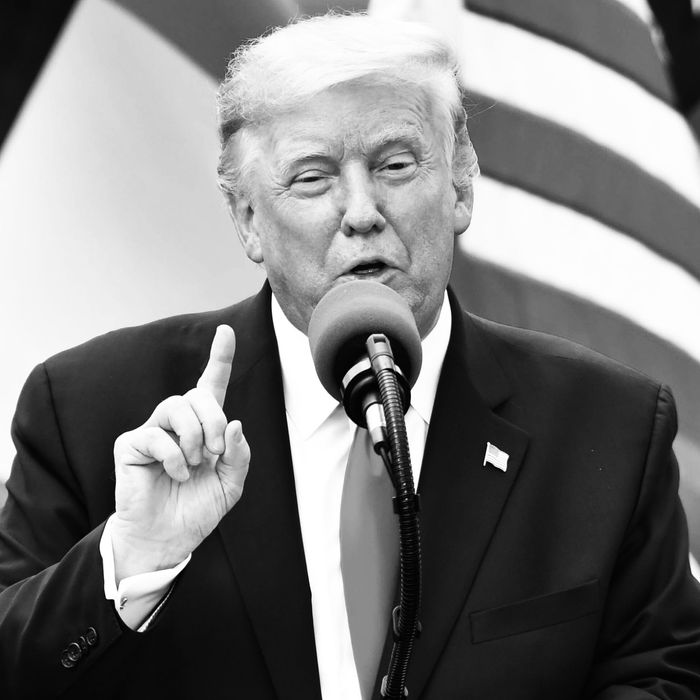 Photo: Anadolu Agency/Anadolu Agency via Getty Images
With the 2020 presidential election two months away, it's worth keeping in mind that voting more than once in an election is, in fact, a felony in most states. It is worth keeping this in mind because, on Wednesday, President Trump suggested that voters in North Carolina should try voting twice in the upcoming election — both in person and by mail — as a way of stress-testing the system.
"Let them send it in and let them go vote, and if their system's as good as they say it is, then obviously they won't be able to vote. If it isn't tabulated, they'll be able to vote," the president told a group of reporters, according to the New York Times.
He added: "That's the way it is, and that's what they should do."
As states around the country are working to increase the availability of mail-in voting during the COVID-19 pandemic as a means of reducing crowds at polling stations on election day, the president has spent months spreading lies about the integrity of voting by mail. In appearances around the country, he has advanced unfounded conspiracy theories and suggested mail-in ballots are vulnerable to theft, counterfeit, and forgery. (Back in June, the Times reported that the president had already made "five dozen false claims about mail balloting since April," a number which has significantly increased since then.)
The president also openly admitted in August that he didn't want to fund the U.S. Postal Service because Democrats were trying to expand mail-in voting.
"Now, they need that money in order to make the Post Office work, so it can take all of these millions and millions of ballots," Trump said in an interview on Fox Business. "If they don't get those two items, that means you can't have universal mail-in voting, because they're not equipped."
Double voting is not a major issue in elections. As Kim Wyman, Washington's secretary of State, told the Times, "We can actually run a list of people who appeared to have voted more than once. Out of 3.5 million ballots cast in 2018, it appears that roughly 100 people may have voted more than once. Counties are checking."
In addition, Patrick Gannon, a spokesman for the North Carolina State Board of Elections, also told the Times that double voting wouldn't be an issue in the state, because the system will only count one vote per person. If someone's absentee ballot were to be received after that person had already voted in person, for example, the vote would not be counted.
Gannon added: "Intentional willful double voting is a felony."
A good reminder!