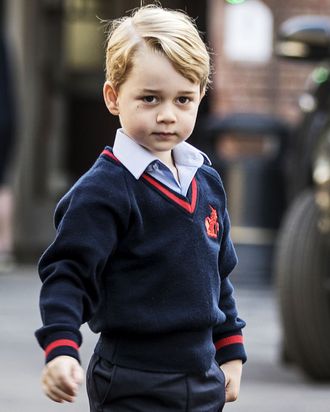 Prince George, victorious.
Photo: AFP via Getty Images
Ah, to be a royal baby. You can experiment freely with bangs, secure in the knowledge that any kind of hair-look will suit your cherub face and surprisingly strong brows. You can be inhabited by an old ghost without anyone in your family batting a lash, reverence of elders being built into the business. And you can be gifted an ancient, pilfered marine artifact and allowed to keep it, despite its being the technical property of Malta and the sea.
Prince George, although no longer a true royal baby at age 7, has nonetheless been granted tacit permission by the Maltese government to hold onto the 23-million-year-old megalodon tooth that renowned naturalist David Attenborough gave him last week. Attenborough reportedly found the fossil while on vacation with his family in Malta, a former British colony, during the 1960s. He presented it to the eldest royal offspring at a private, outdoor screening of his latest film, A Life on Our Planet, held at Kensington Palace last week.
A tooth from an extinct species of giant shark is arguably sort of an odd item to give an elementary schooler, but as you can see, Prince George liked it very much.
The Maltese government, less so. On Monday, the country's culture minister, José Herrera, said he planned to "get the ball rolling" on the chomper's return.
"There are some artifacts that are important to Maltese natural heritage and which ended up abroad and deserve to be retrieved," Herrera told the Times of Malta. "We rightly give a lot of attention to historical and artistic artifacts. However, it is not always the case with our natural history. I am determined to direct a change in this attitude."
Herrera quickly backtracked, however, a spokesperson for his office telling the Times on Tuesday: "The minister would like to note that with reference to this case, it is not the intention to pursue this matter any further." Prince George will be allowed to plunder the spoils of the deep, just this once.