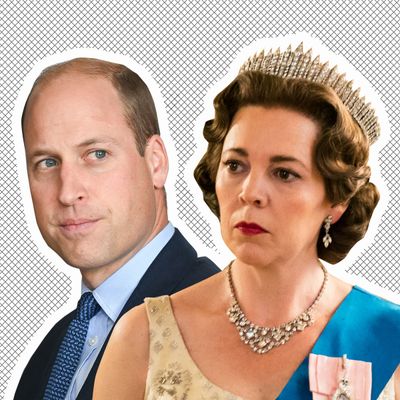 Photo: Getty Images/Netflix
Yet again, reports have come out that the senior royals are mad about something Meghan and Harry did. This time, it has to do with the couple's new deal with Netflix, the company behind The Crown. 
Earlier this month, the Sussexes signed a big ($100 million) multimedia contract with Netflix to make documentaries, features, and television shows. "Our focus will be on creating content that informs but also gives hope," they said in a statement. "As new parents, making inspirational family programming is also important to us." (Apparently one of their projects could be a new documentary on Princess Diana, but that has not been confirmed.)
But reports from the Sun suggest that many senior royals are against the couple's partnership with Netflix, simply because it's the company that streams The Crown. "William and other senior royals are incredibly uncomfortable about this drama and livid Harry is now in partnership with the company that's airing it," an insider told the tabloid. Indeed, the royals are rumored to have "strong opinions" about the show (word is that the Queen is a fan, but Prince Philip is not, which makes sense because it's not exactly a flattering portrait of him.)
Meanwhile, season four of The Crown is set to  premiere on November 15. It features newcomer Emma Corrin as Lady Diana Spencer, and will follow the royal family from the late 1970s up until the early '90s. In 2016 the show's creator, Peter Morgan, told People that seasons four and five will be "heavily" focused on Diana, and Independent reports that it will touch on Diana's struggle with an eating disorder.
As for Harry and Meghan, The Crown is set to end after six seasons, and creator Peter Morgan has said he's not interested in covering the couple right now: "I just think you get so much more interesting [with time]," he recently told the Hollywood Reporter. "Meghan and Harry are in the middle of their journey, and I don't know what their journey is or how it will end … One wishes some happiness, but I'm much more comfortable writing about things that happened at least 20 years ago."