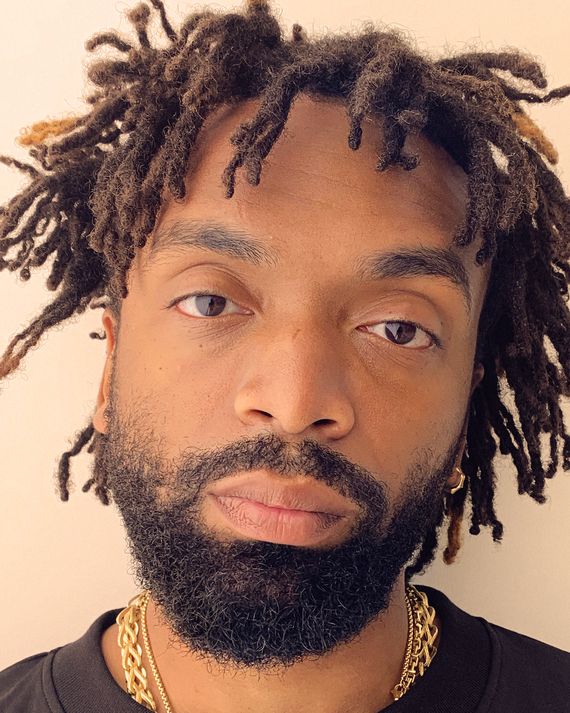 Photo: Christopher Anderson/Magnum for New York Magazine
The fashion industry has never worked for me — like, none of it. The wholesale model, the press model, none of it has worked," said Kerby Jean-Raymond. "And I don't know if that's because of who I am, the kinds of clothes I made, whether or not my company ever understood merchandising, whether our fan base was willing to adhere to the same rules that have worked for legacy brands like Gucci and Saint Laurent."
Jean-Raymond is the 33-year-old founder of Pyer Moss, a men's and women's label based in New York City. In 2015, after several years of making contemporary sportswear—jeans, leather jackets, and the like—he began showing clothes that reflected Black heritage. Jean-Raymond had always referenced Black culture and his own activism to some degree, usually with messaging on a shirt, and gospel choirs were a feature on his runways. But that September, Jean-Raymond went further than he ever had. He completely abandoned the kind of clothing he had been doing, which, in all honesty, looked like an edgier version of Kenneth Cole, and instead showed dresses inspired by the drape of choir robes, except in pale blue and sunny yellow, and a T-shirt depicting a Black man grilling food, plus another outfit showing, in vivid colors, a Black dad cradling a baby. Not only did he represent "Black people doing normal things," as he put it, but Jean-Raymond also held the show at the Weeksville Heritage Center, on the site of one of the country's first free Black communities.
Last September, he took over the Kings Theatre in Flatbush, this time with a 90-member choir. By then, he had decided to show whenever he wanted to, counter to the industry practice of holding two or three shows a year. Close to 3,000 people came — the capacity of the theater. So did every major fashion publication as well as general-news outlets.
Jean-Raymond was at his home in Brooklyn when we spoke in late May. The son of a New York City electrical technician who emigrated from Haiti, he is a great mixture of intensity and droll humor.
"For my part, Pyer Moss was introducing a new generation to fashion that didn't care about fashion as much as activism and music and collaboration," he told me. "Our customer doesn't need four collections a year. We stopped doing that. We did one. We also realized that our client wasn't noticing all the nuances that were on our runway. For the most part, we have to post something on Instagram five or six times before people notice a graphic, for example.
"One of the biggest mistakes we made early on was that we thought, Okay, we're going to compete with Margiela, with Dries. We can't do that," he continued. "We weren't the only stupid ones, either. There are so many brands that are stupid — that are just trying to piggyback off the existing legacy customer and not trying to move with the times." Today, more than 70 percent of Pyer Moss's business is direct to consumer, via online sales and pop-up stores; the rest is wholesale to stores.
"I'm watching these brands fold, and I think it's because they didn't know who their customer was. And they're trying to talk to everybody. They're trying to make handbags. When it's Christmastime, and you want to buy a handbag for someone, you go to Chanel. You go to Louis Vuitton. That's what those companies do well. "If people have heard of Pyer Moss, they'll go, 'Oh, they're pro-Black, they're involved in the community.' But it's a deliberate decision. With a lot of these brands, it's, 'Oh, they make florals.'"
It always amazed me that so many young designers were advised to structure their businesses around the wholesale model. That system was already falling apart before the pandemic hit, and now with all the retail bankruptcies, many of those brands won't survive.
"Who the fuck are they getting advice from?" he asked. "And why? Because the person giving the advice is associated with a publication? It sounds really idiotic to me. Have those individuals ever run their own businesses?"
All of the designers I interviewed believe that strong creativity is the engine of fashion, and without it, things won't move forward. Jean-Raymond also believes that, but he also takes a different view of how consumers will perceive high fashion.
"There will be museums and collectors. You'll have couture designers who will still have clients and who will do those meaningful expressions that pertain to design, but, honestly, as someone who's been trained in draping and pattern-making and all that shit, I know that as much as I know how to do it, it's a lost art form right now. Especially as we're moving toward everything being online — that minutiae is gone. I think that design talent won't be the primary factor in that process.
"There will still be boutiques that exist for that, but they're going to become like record stores. For people who really love and want to fuss with vinyl."
In lieu of a show, this fall Jean-Raymond had hoped to host a drive-in movie; the film chronicles Pyer Moss's development since 2018. There may also be a surprise performance and a pop-up shop. Jean-Raymond, who doesn't segment deliveries by season—he calls them Offering 1, Offering 2, and so on—will offer items from the Kings show along with new things. They'll be available online from October till the end of the year. Another point of difference is that the brand doesn't generally allow markdowns by retailers. It prefers to buy back stock and then create "archival" sales around them.
He said, "Instead of putting stuff on sale, let's talk about the work that went into it, let's talk about the show. Let the fan get a history lesson at the same time they're purchasing what other people might consider old clothes. So it's all about context."
"I've been preaching all this stuff to other brands and the meetings at the CFDA." (Jean-Raymond is on the board of the Council of Fashion Designers of America.) "If I'm the last one to exist, that wouldn't be fun. Part of the fun is we're competing with these motherfuckers" — meaning the big-name brands. "You know what I mean?" He let out a laugh. "I don't want to be like the '96–'97 Bulls, and there's no other NBA team to play. That's why we're really open with the business information that has worked for us."
The next time we spoke was in July, after the most intense protests. "None of this surprised me," he said mildly. I mentioned a recent series in Women's Wear Daily, in which the trade publication had surveyed some of the biggest apparel corporations, including PVH, which owns Calvin Klein and Tommy Hilfiger, and found that very few had nonwhites at executive and board levels.
Jean-Raymond said, "Do we want to continue to buy into and ask for help from a system that doesn't represent us? As you can see, most of these boards are all white, most of the creative directors are white, and when Black people are asked to help run these organizations, most of the time we're treated the same way Africa is treated. We have a lot of creative resources, and they take those resources and sell them abroad.
"So we've run into this weird conundrum. Do we play in, or do we play out? The obvious answer is we play out, but we don't have the resources to start businesses."
He paused. "It's like this fucked-up prison system, you know. It's like being in jail and being asked to join the prison basketball league."
He proposed that a company fund a group specifically for Black and brown fashion brands. "It means leveling the playing field. Not having to buy into these existing systems, but be able to have the resources to create our own systems. That's what the end goal looks like to me. I don't think asking [corporations] for scraps is the right thing. Instead of scraps, ask them for platforms."
Cultural appropriation still happens a lot in the industry, and Jean-Raymond is nonplussed. He laughed. "I wish they would see that it's more than tapping into a well of design that you feel you should have the right to tap into. In a future world, I look forward to being able to tap into other cultures and see what I can bring to it, but we're not there yet."
I told him that Rick Owens had said that, in hindsight, he should not have put Black step dancers in a show he did some years back.
"Yeah, he's right. He shouldn't have. And here's why. The most dangerous example of that is when a designer feels like they're doing something for the movement just by putting Black women in their clothes. Rick is one of my favorite, if not my favorite, designers, and I know he's not of that mind-set. But when he does something like [the dancers], it gives a designer who has not bothered to educate himself the license to say, 'Okay, I've put you in good clothes, therefore all the work is done.'
"One of the things I've noticed," he said, "is overall resistance to Black leadership. I've been offered everything but a creative directorship. It's always, like, 'Well, you'll be the No. 2.' But then there's no hesitation with Matthew Williams or Demna."
He laughed softly now. "What they continue to offer Black creatives and Black business people is always like an annex or a sub job. It's not the job. It's like the trial job that leads to nowhere."
*A version of this article appears in the August 31, 2020, issue of New York Magazine. Subscribe Now!