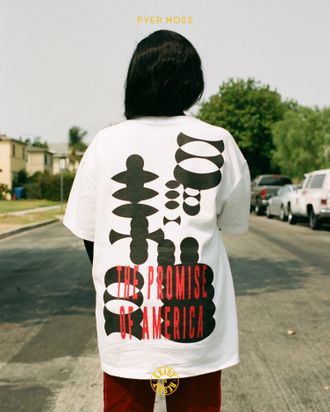 Photo: Courtesy of Pyer Moss
Pyer Moss just launched a platform called "Exist to Resist," which spotlights the important work of social-justice organizations. Working together with said organizations, the fashion brand plans to release limited-edition products and donate all proceeds to support their community efforts.
"We are at a pivotal moment and the world is watching. Those on the front line who are challenging the ills that potentially plague our future represent the best of us," the brand, founded by designer Kerby Jean-Raymond, wrote in a statement. "Our roles as creatives are evolving to identify these voices, amplify their efforts, and aid them where we can. Our collective existence is resistance."
In an effort to encourage voter registration, the brand's first "Exist to Resist" item is a "Vote or Die … for Real" T-shirt by Sean John by Pyer Moss. In addition to pushing people to vote, the brand is bringing awareness to Rock the Vote, a nonprofit organization dedicated to building the political power of young people, in a two-minute video.
The tee reimagines music icon Sean "P. Diddy" Combs's original "Vote or Die" shirt, which launched in 2004 as part of a nationwide voter-registration program geared toward educating young people and minorities about the importance of exercising their right to vote. The tee is exclusively available at pyermoss.com and all proceeds will be donated to Rock the Vote.