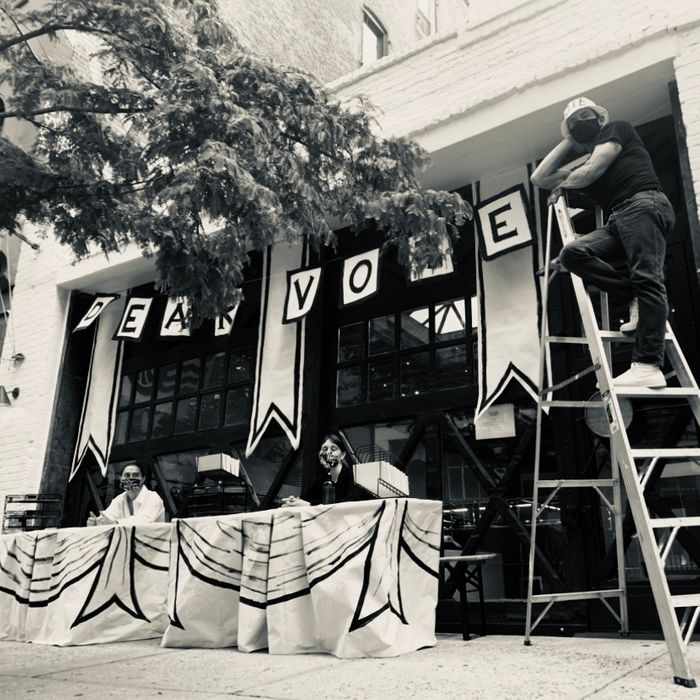 Photo: Courtesy of Rachel Comey
The upcoming election is too important to sit out — voting has arguably never been more crucial. But the logistics behind how to do it have also arguably never been more convoluted. Aiding in the efforts to increase voter turnout in her community is New York designer Rachel Comey.
Starting today, Comey is partnering with Vote Forward and Swing Left for a nonpartisan "get out the vote" project called the Big Send at Work. According to Vote Forward, an organization that helps register voters from underrepresented demographics and encourage them to vote, hand-written letters are the most effective thing you can do besides knocking on doors to encourage low-propensity voters to get to the polls.
Starting today and running through Sunday, September 20, from 12 to 5 p.m. ET, you can handwrite letters in person in a socially distanced manner at the Rachel Comey store at 95 Crosby Street. The store will provide a letter template for you to complete, fold, sign, and mail (and give a 10 percent discount in store as a thank-you). You can make an appointment or just stop by.
Another option is registering online to write at home. The process is easy: sign up, "adopt" potential voters, download and print letter templates for your adopted voters, personalize the letters with handwritten messages in the allotted spaces and then address, stamp, and send on the official Vote Forward mail date to ensure your letters are timed for maximum effect.
Whether you do it in person this week or at home, you'll support the USPS with your mail-ins. Plus, it's an impactful way to have your voice heard during the upcoming election.