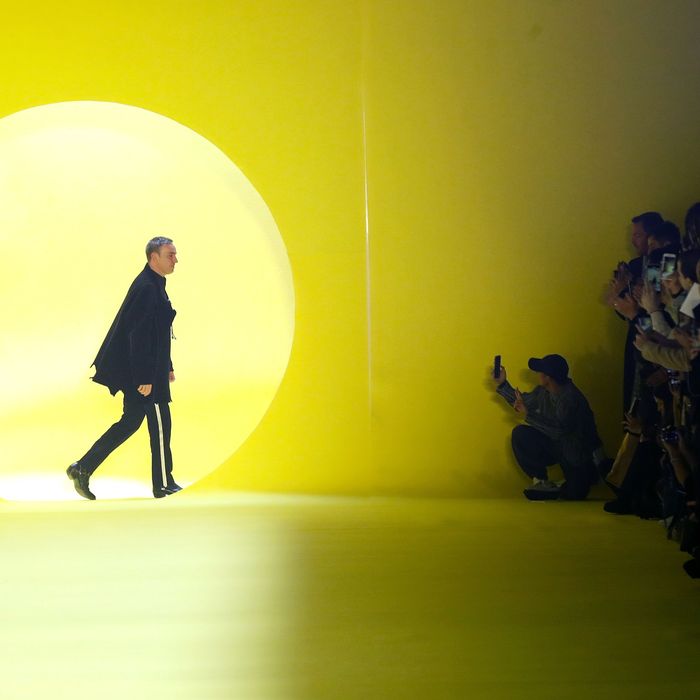 Simons at his men's-collection show in Paris in January.
Photo: FRANCOIS GUILLOT/AFP via Getty Images
Born in 1968 in a small Belgian town on the Dutch border, Raf Simons is considered one of the most influential designers in the world. "He did everything before anyone else, and everybody has copied him," the stylist and writer Marie-Amélie Sauvé, who works with Nicolas Ghesquière, told me in 2005. At the time, Simons was known mainly to the (then) tiny world of men's fashion as the person who introduced a generation of men to the skinny black suit. (His explanation for why he did the suit, and showed it on non-agency models, reflects his simple and direct approach to most things: "It was just because we were so small.") He went on to design women's fashion for Jil Sander, where he redefined minimalism, then to Christian Dior and Calvin Klein, with the portents of disaster of his last shows, in 2018, suddenly seeming prophetic.
Now Simons has joined forces with Miuccia Prada. Their first collection will be shown in Milan in September, although details on exactly how that will happen have not been settled. Still, for any number of reasons, covid included, it can't come at a more welcome time. As Ghesquière told me this summer, "That's one of the best pieces of news in our industry for a long time."
When Simons and I first talked, in May, much of the world was shut down. He was in his apartment in Antwerp making the most of the quiet. "You start to realize what you already knew," he told me. "For example, in fashion, we work with design teams and other commercial teams, like marketing. You're involved in this thing, it's just ongoing, and yet you know the way it's going is not exactly the way you like it. But you do it. I don't know what it is, but something just sucks you into this systematic kind of behavior. It's almost boring to talk about it. When to show. How to show. And how to build that up. Everything we do right now is following a timeline that is ridiculous, and very often it's not about what you want to say. I would be fine to not show something for two years, maybe. No problemo." Now there's a radical idea!
When Simons started in fashion, he didn't really know about all the structures in place. "I felt I really wanted to say something, and I didn't even think about how it would evolve." He thinks about the young designers and wishes they would think about things in bigger terms, not just about the clothes. He wants them to challenge norms, even as he knows how hard that is.
"The older generation might have the desire to change the system. Now it's popping up everywhere: Change the system, change the system." But, he said, even if you are the decision-maker at a brand, no matter what you want, "those decisions are not made by you alone anymore. There are so many other things that come into the picture that you cannot just shake it off."
For the past month, Simons had been conferring with Bianca Quets Luzi, the CEO of his brand, about what they could offer for spring 2021, and they decided to reissue pieces from the archive. It made sense, they felt, because of the industry's production challenges and the fact that it's the label's 25th anniversary. "All of us, because we're in this system, do way too much, and now we are obliged to do less for economical reasons," he said. "In a way, it's fantastic."
Simons isn't sure how this period will influence fashion. Free associating, he asked, "There are all these things people think they need, but do they really need them?" He laughed. "I'm not sure I'm the best person to talk about this, but honestly, I haven't worn a piece of fashion in months."
He then brought up Amy Spindler's name. "You knew her."
Yes. Amy was my friend and ferocious colleague at the Times. She died in 2004 at the age of 40.
"I met her only one time, and it was after a show. We went to dinner. There were other people there. I was knocked down by a critique of a show or something. And she said, 'Man, you have to wake up. You have to realize it's a food chain. If you don't exist, all of us don't exist. Because we write about what you do. The stores sell what you do. So if you don't activate that, then the whole thing doesn't exist.'"
He said, "I've thought about that more and more. There's very clear proof that it can exist and operate without strong creative minds — meaning the designers, the individuals it all starts from. It can perfectly exist. And people are eating it. The buying audience is just eating it.
"Maybe I shouldn't say that. But maybe it's also the moment when you shouldn't care and just say it."
I said, "Yes, but brands that stop doing interesting things on the runway and are just doing a formula to keep up sales eventually start to see their prestige eroded and then they bring in better talent. We've seen that happen a lot."
"I agree 100 percent, but only if we are saying that high fashion is niche. It's never served the masses, it's been democratized. High fashion was never what it became — popular culture. And in my opinion it cannot be for everybody. Not possible. It leads to what is happening. This has nothing to do with the coronavirus. It leads to the possibility that it can exist without creatives. It's already happening.
"Again, the system. The brands don't care about the criticisms anymore. Why would they care? It's already not existing in the future. They're completely prepared for magazines that won't exist anymore, for advertising that won't exist anymore.
"Certain designers and writers approach things in the world more from an intellectual, cultural, and emotional point of view. But the brands that surround us, not. It's purely from an economical point of view. And marketing. It's a much more mathematical way of thinking. There's always been both elements in the fashion business, but they're not balanced in the right way anymore. It's become a new normal that this is the way it is. But is it? Is it normal that all these shows need to be so big, like what I was doing at Dior and Calvin? And Nicolas with his big shows? And Demna? It's really a package around the whole thing."
Simons said, "At the end of the day, I think the world is going to be split into very different worlds. I think it's the young kids who need to revolt and build up a new system. The problem is most young designers don't succeed because they also entered the system."
"True, but people keep coming up," I said. "Look at art, film, music. Why wouldn't it happen in fashion, eventually?"
"I sense you're aiming toward something that should be revolutionary. But the nature of a revolution in fashion is that it comes from someone we don't know. It's partly embraced and partly rejected, but it's so not something that you can push aside. Because it has much more meaning and content than what we've known."
By July, Simons had moved into a house in Milan and had begun to hash out ideas with Prada. He wouldn't say anything about the collection or their working process (nor would Ms. Prada), but he did tell me, "She questions everything." I had heard this before from others at Prada and have also experienced it firsthand. The degree to which she questions everything — whether it's the future of fashion or the rhetoric surrounding the pandemic — is probably what separates her from other designers. And it was sharply evident again when she and I spoke on July 17.
I asked Simons about the Black Lives Matter protests and the lack of diversity in fashion, and he said that he and Quets Luzi, his CEO, have been discussing what they could do locally. One idea was an initiative to encourage nonwhite high-school students to enter design colleges. In the past, students and graduates who've applied for internships at Raf Simons have been white, he said, and that suggests to him that too few young people of color in Europe see design as a viable path. "I think the brand has always been standing for total openness and diversity," he told me. "I'm flabbergasted in a way that all these things are still issues in the world. Anti-gay, anti-Black, all these negative things. It should be a very open world."
We returned to the question of fashion's possible future.
"Right now, fashion is very much attacked," he said. "Partly I agree and partly I disagree. Fashion is not present in the world to solve all the problems. But then, on the other hand —" He paused. "What is it that our audience will need? I think there must be a bunch of people out there, when they start thinking about fashion, who don't want to be reminded of the shitty time they had at home in the last five months. But —" He hesitated. "It's just so personal. I have no clue. I've been wearing an easy jogger and an easy hoodie at home, but that doesn't mean that I think fashion right now should be easy and comforting.
"What I think a lot about — it's constantly on my mind — is to make things that people will keep for a long time. That's true of my own brand. It's not because you bring a good story or a narrative that a collection is going to be long-lasting."
And he added, "The thing that I also feel is we've been all shaken out of our systems, and it's the most welcome thing. There are so many problems, but at the same time it can also make you think that anything is possible."
*A version of this article appears in the August 31, 2020, issue of New York Magazine. Subscribe Now!