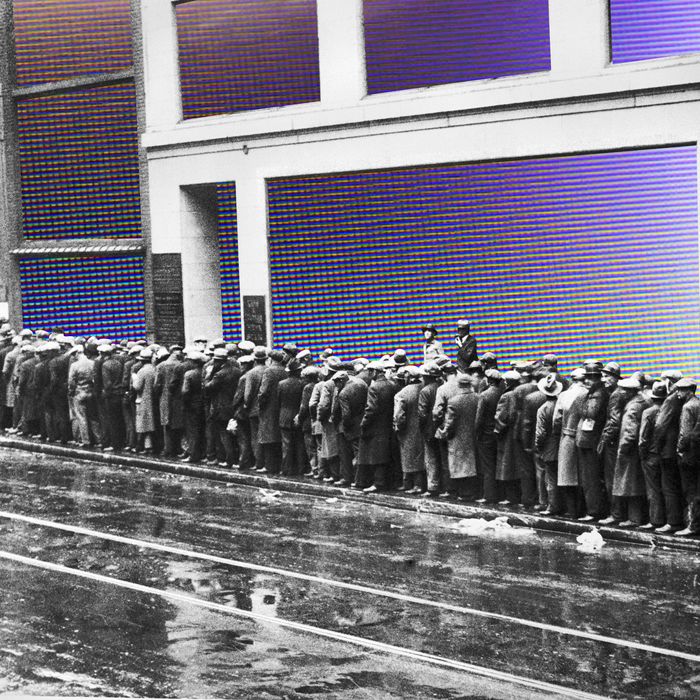 Photo-Illustration: by Preeti Kinha; Photos: Getty Images
Erin Young hadn't eaten in four days. She was waiting to certify her eligibility for an extra $300 a month in unemployment benefits, called Lost Wages Assistance, announced by Donald Trump on August 8. She hadn't worked since March. Now, it was September 15. Young had stayed up all night refreshing her California employment account home page. In the morning, she finally found the question that had shaped the last five weeks of her life sitting on her screen: "Are you unemployed or partially unemployed due to COVID-19?"
She clicked the box that said yes. Then she updated a post she'd made on r/unemployment a day earlier, titled "Please pray for me that I dont become homeless and that I'm able to find a job soon." "UPDATE," she wrote. "JUST LOGGED ON (9:45AM) AND LWA CERTIFICATION WAS AVAILABLE!!! Go certify everyone!!!," she wrote. "I'm beyond ecstatic that I got to certify today. I hope it gets here soon. I'm so hungry."
R/unemployment is a Reddit community where people struggling with the frustrating, opaque process of receiving benefits can go to seek advice and commiserate. Its membership has skyrocketed since April, when joblessness reached historic levels in the wake of the COVID pandemic. Like Young, many post about their fears of losing their homes, and about going hungry. "I'm just here to vent for a second," someone from New York wrote on the forum a few days before. "I have a 2 year old & we're struggling just to eat everyday. it's insane." A poster replied ten minutes later: "I have $2,000 in bills due next week and literally $40 sitting in my bank account. I've been living on dry Cheerios." Another person suggested donating plasma, with a caveat: "You need to have a good breakfast and at least a gallon of water the day prior."
Meridel Le Sueur wrote in 1932 that she saw hunger "like the beak of a terrible bird at the vitals" in the breadlines and soup kitchens of the Great Depression, when unemployment rates reached 24.9 percent. There was no government welfare state at the time. Just under a century later, we have something called unemployment insurance. Now the breadlines have mostly moved out of sight, with hundreds of thousands of people on hold for hours with benefit representatives. And for those who can't get help from the government, there is r/unemployment, which now functions as a kind of ad hoc, crowd-sourced, people's benefit office, where some 46,000 members of the American unemployed have congregated to help themselves.
Young, a 28-year-old restaurant server in Murrieta, California, was let go from her job shortly after the start of the COVID pandemic. She filed for unemployment assistance right away, but it took her months to hear back from her state, and only after another redditor helped her contact her state representative. (Four million Americans have reportedly waited more than a month to receive their first check.) In July, the $600-a-week federal action rolled out by the CARES Act ended, leaving Young back where she started: unable to afford food, much less pay her rent or her bills. Now, waiting for her Lost Wages Assistance, Young and another wave of r/unemployment posters, yo-yoing between subsistence and hunger, flooded the site with questions, looking for the help they had read was coming.
The anxious corridors of r/unemployment are riddled with acronyms: PUA, LWA, PEUC. The feed is inundated with Kafkaesque tales of dysfunction: One state has a 24/7 chat function from which no one has ever been able to get a response. Posters say they are required to respond to texts in order to claim their benefits, but they can't afford cell service. After five months of silence, one claimant received a letter one day after its stated deadline to be returned. Some of the local benefit programs are wildly ill-named — assistance in Pennsylvania, routinely late to deposit, goes on something called a "Reliacard." California's Employment Development Department uses a 60-year-old programming language called COBOL that was invented when Dwight Eisenhower was president. On days when assistance is set to arrive, the forum is consumed by spasms of fear. "Be honest, how many times have you logged into the unemployment website to check if you got your benefits today?" one poster asks. "I've checked at least 20 times," someone replies. "It's driving me crazy."
But r/unemployment is an orderly, well-lit place compared to the rest of Reddit, where conversations are typically crude and unmanaged. Its moderators run it with temperance rules: no swearing, no memes, no trolling. "Remember the human," regulations say. They do not allow posts of phone numbers or emails, lest they be reported as "doxxing" by Reddit administrators. Subscribers must tag their posts with "flair" that delineates what state they're in, so unofficial experts, often on unemployment themselves — grad students, gas station managers, stadium workers, car salesmen, servers — can weigh in effectively on hyperspecific questions.
Tailored help usually comes within a few hours, sometimes in the form of a hack: In Michigan, dial 991111 to get a real person. In New York, tag the Department of Labor on Twitter. Many people are worried about committing fraud because they got a few hours of work one week. "Can I cash my check?" "What if I sold something on eBay, do I have to report it?" A poster from Texas recently asked if they could resist the government's order to pay back $3,300 for refusing to return to work in a store that was not providing PPE. The consensus was no.
The same day that Young spent the night frantically checking on her benefits in California, another bipartisan bill from the House Problem Solvers Caucus was announced. "Ok, don't get excited," posted "another1ofyouppl." The bill included $450 a week in federal unemployment — which could rise to $600, but would be capped at whatever your wages were before. As they had for six months, the denizens of r/unemployment processed how information they gleaned from CNN and Wall Street Journal articles would impact their fate, in real time. "I'll take it," said one person. Another worried about states' abilities to process another huge amount of individual cases, given the chaos of the past six months, when "the influx of claims decimated them." Quickly, it didn't matter: Users began updating the thread that the bill was DOA. The House Democratic leadership had rejected the proposal in a statement, saying it "falls short of what is needed to save lives." "Oh give it a break," someone commented. "If they cared about 'saving lives' they would have passed something months ago."
It would still be another few days before Young would actually get her Lost Wages Assistance money and be able to eat. She wanted to put gas in her car so she could drive to a food pantry. She was also hoping to pay her cell-phone bill so she could call her mother, living out of state and sick with the coronavirus. She knows the LWA will run out, too, however, and she'll be "back to square one." "I am so scared," she says. "I check the news every day."
And she'll stay on r/unemployment, where people with nowhere else to turn are still turning. There are 2,000 more subscribers this week than last, besieged by compounding crises, their struggles nesting Russian dolls of systemic breakdown. Parents who were forced to quit their jobs and stay home with their children because schools could not open wondered if they could collect. Someone was choosing between claiming unemployment or treating a health issue with Medi-Cal, for which they would not qualify if they took the extra benefit. In a post called, "it gets worse," a redditor from Alabama wrote, "my wife and I just lost everything we owned except for our lives to Hurricane Sally last night." "Lost temporary job due to wildfires [Oregon]," wrote someone else. In August, a poster from Michigan was "on my last leg here," he said. "I need some serious help, man," he wrote. "I'm drowning in my own agony. I don't know what to do anymore. I'd get therapy if my UE ever came through. Feels like they are just waiting for us to die or kill ourselves off. I truly feel abandoned by this country."
Reddit calls all of its topic-based forums "communities." The term ennobles the myriad miseries that populate every r/unemployment conversation, and their accompanying resilience. But "community" is too squishy, too romantic to describe the online pandemic breadlines, where no one wants to be. Even salvation, when it arrives, is austere. One poster, unable to receive any benefits for 11 weeks, dialed a number based on r/unemployment advice and finally got through to a human being at the unemployment office, after 63 tries. The rep told him there was a mystery stop-payment order on his account and reversed it right away. The poster was stunned. "It took him three minutes," he wrote, "to save my life."