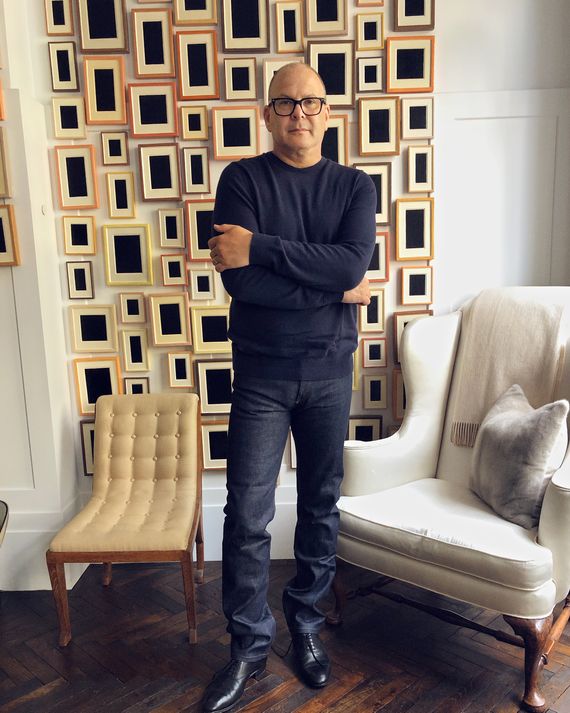 Photo: Christopher Anderson/Magnum for New York Magazine
Early in the lockdown, Reed Krakoff got into a routine of watching documentaries. Working from his own list of nearly 100 titles, the 56-year-old chief artistic officer at Tiffany & Co. watched a documentary every night — on Miles Davis, Robert Motherwell, the Agnellis. Anything about geniuses and artisans, and why they made what they made.
"It was a really good way to create some sort of design language in my own little world, late at night," he told me in mid-June from Connecticut, where he was living with his wife and four children. He wanted to keep his mind moving forward at a time when everything felt frozen.
Krakoff is used to things moving. He spent 20 years designing clothing and accessories for Coach and then his own eponymous label. The Tiffany gig, though, is something else: a leading role in redefining one of America's best-known status symbols, an institution that goes back to 1837 and has been behind major innovations in marketing. For example, the "Tiffany blue" packaging first adopted in 1851; the modern, high-set engagement ring (1886); and the extraordinary work of a cluster of legends, including Jean Schlumberger, Elsa Peretti, and Paloma Picasso — the kinds of people you might watch a documentary about.
"With Peretti, you think of the bone cuffs — there may not be a more famous piece of jewelry," Krakoff said. "That was done 50 years ago. It's incredible. And it's as valid today as it was then." But the singularity of the cuff points to one of his bigger challenges: how to restore Tiffany's image as a design pacesetter.
Before the lockdown, he was well on the way, starting with overhauling the Tiffany flagship on Fifth Avenue, made famous by a Givenchy-clad Audrey Hepburn noshing on a Danish before its windows. The architectural landmark is now closed for renovation, which will take about two more years—perhaps fortuitous timing, since retail foot traffic has taken a hit for everybody. The Cross & Cross building, which features the spectacular, column-free main floor—a feat of engineering at the time—first opened 80 years ago. Krakoff is working with OMA, the architecture firm co-founded by Rem Koolhaas. At the same time, Tiffany has a pending $16.2 billion sale to LVMH. It's hard to think of a creative director who has that kind of scope or responsibility, but Krakoff is a serious, broad-gauged man whose interests range from photography to architecture (he's on the advisory council of the Glass House).
"Your guess is as good as mine what the new normal will be," he said. "But to know where things are going, I can only think of it as a creative person, as a designer. It's really important to make things that have a long life to them for all the reasons that people talk about. Jewelry fits into that ideal. You can make something by hand and use it and have it be a meaningful part of your life — as a marker of an accomplishment or a relationship. You have it your whole life and then perhaps pass it down. That, to me, is where the world's going in terms of luxury."
In the late 1970s and '80s, Tiffany distinguished itself with a new group of creators, including Peretti and Picasso, but also the dazzling Angela Cummings. Each had a strong point of view — and far from the splashy, if traditional, gem pieces that you used to associate with grande dames (and, indeed, today, with actresses on the red carpet). Krakoff recognizes that some of the '70s-era design leadership is what has been missing from Tiffany. "I think there was a long period, in the last 25 years, where it was very classic and it was more an iteration of an idea — an earring that's a version of a ring that's a version of a bracelet. And all beautiful, very classic." What drove that in part was online shopping, "that if you want to see every two-carat, colorless, VS-1 diamond ring that you can find in the world, you can look at it all at one time," he told me.
He added, "Any public brand that's a $2 billion, $3 billion, or $4 billion company — they go through a period where you dreamt of the open-heart pendant from Elsa Peretti, you dreamt of a diamond ring and a pair of studs. That leads to success, and that leads to a proliferation of what's good — we need more, more, more. And that invariably leads to too much of that. Tiffany went through that. The iconic nature of the assortment got a little drowned out — by too much efficiency, is what I call it."
One difference between fashion design and high jewelry is the cost of the inventory (millions of dollars in stones) and making something. "When you make a piece of high jewelry, the labor that goes into it can be half of the cost. Because it can take a year to make one piece." He offered the example of a recent Tiffany design. "It was this concept of taking a sheet of diamonds, which doesn't exist, and cracking it as if it were the surface of a lake. The first question was 'Why would you want to do that?' Each diamond had to be custom cut, and with each piece, it's not the way to maximize the value of the diamond. It would have to be incredibly shallow, shallow enough to refract light, but not so shallow they lose their brilliance — which can defeat the purpose of being a diamond. And each piece has to be linked together by hand.
"The piece took one year — one year to make one bracelet. And the sample piece that I got was about one inch by two inches. That was it, and from that you had to say, 'I believe in this. We're going to take beautiful diamonds and cut them in an irregular way.' Our technicians and gemologists figured out a way to do it. But it took a year. Compare that even to haute couture — it's incredibly expensive and time consuming.
"So, for that reason, you don't see a lot of experimentation in jewelry the way you do in ready-to-wear or accessories. It's a whole different experience."
Krakoff laughed lightly. "So when you say 'Where's the next Elsa?' — there may be one, but we haven't found that person yet. But I'm always looking for people who can bring something new."
*A version of this article appears in the August 31, 2020, issue of New York Magazine. Subscribe Now!