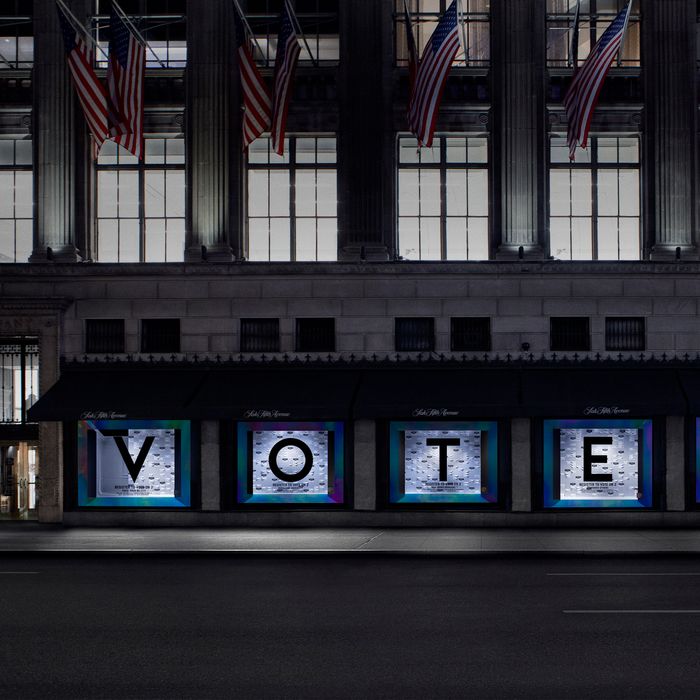 Illustration: Courtesy of Saks
For years, there's been talk of customers wanting an "experience" when they shop. They're not only looking for new styles to buy but also food to eat, drinks to drink, selfies to snap — you name it. Starting today at Saks Fifth Avenue, customers can also, if they so choose, participate in our democracy by registering to vote.
"Saks has a responsibility to use our voice to champion issues that matter to society," Emily Essner, the store's chief marketing officer, said in a statement. Starting today, which is National Voter Registration Day, through October 9, visitors to the Saks flagship and website can easily register to vote, complete an absentee-ballot application, and check their registration status while taking a break from browsing.
"While we have a long-standing history of platforming a number of meaningful causes, using our influence to drive home the importance of voting, and encouraging our community to take action, [this] is a first," Essner went on to add, emphasizing the unprecedented nature of this year's election. "We are pleased to be a part of a movement that inspires Americans to get involved and make their voices heard."
Customers will find a registration booth on the second floor, where reps from the nonpartisan organization HeadCount will be onsite to help walk everyone through the process. Saks has also transformed its Fifth Avenue window display into a call to action, highlighting key milestones over the course of U.S. voting history. Election Day will be a paid holiday for all of its U.S. corporate associates, and the company will work with its store employees and those in its distribution and fulfillment centers to coordinate schedules to enable them to get to the polls.