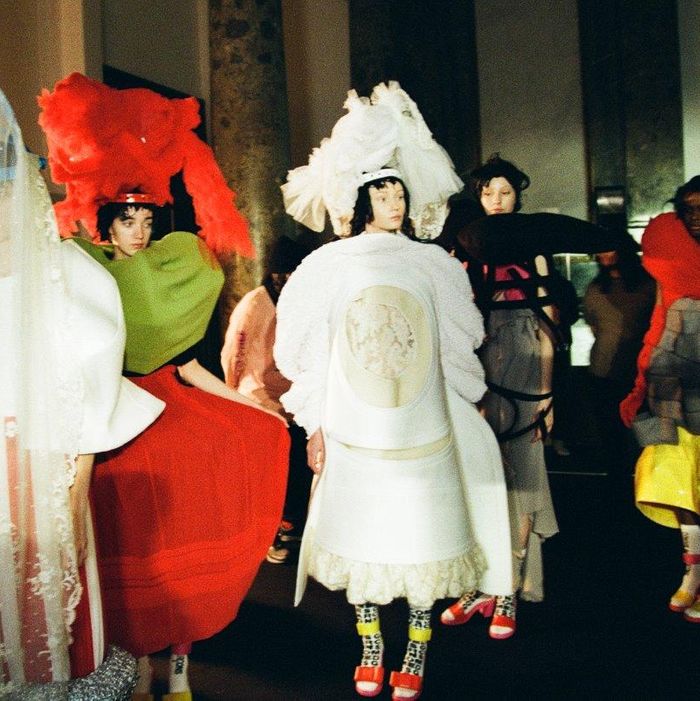 Comme des Garçons Fall/Winter 2020
Photo: Ilker Akyol
Few individuals have had more impact on how people dress than Rei Kawakubo, the founder of Comme des Garçons. Her experiments with patternmaking in the early '80s turned the conventions of tailoring inside out and led to the method known as deconstruction. That broken-looking dress of yours, with the slashed sleeves, can be traced back to her influence. Those pop-up stores? That too was her invention in 2004, though she called hers "guerrilla" stores. Ideas come to her randomly and intuitively — a crumpled piece of paper handed to her team became the basis of a dress that crumpled around the body. One of my favorite collections—of all collections—featured 34 variations of a skirt. No tops and shoes, though some funny horn-shaped hats. Shown on a plywood runway in a gilded Paris salon in 2003, it was a fantastic display of abstraction and a nice way to mull on uniformity. A small woman with a birdlike build, Kawakubo is now 77. She lives in Tokyo, and because her husband and business partner, Adrian Joffe, who is also her translator, was in Paris in mid-July, we did this interview by email. Contrary to the impression that Rei K is a perfect enigma, she revealed some surprising things about herself.
Unlike many of her peers, she didn't stop working. "I strongly fear that once I take a break from my work of creation, I won't be able to get back there again, that I won't be able to move forward anymore," she wrote.
"To create means to keep looking for something new all the time, no matter where you are, no matter what kind of situation you are in, and that is the truth. Sticking to this policy, we at Comme des Garçons have had 30 percent of our staff come to work every day to keep the company going while maintaining the utmost precaution of not spreading the virus during this period when the government requested people to 'stay home' (never 'locked down' in Japan). Me, too. I went to work every day from early morning to keep working on creation as well as on administrative stuff of the company."
I asked how isolation and separation from Europe shaped her early ideas. "I have always been outgoing. I have visited a small village in Peru, a Maasai tribe in Kenya, and numerous cities in Europe and America and so on. I have never felt or thought I was isolated or separated from anything ever. I have always been free. It was least expected that you would ask me such a question," she said.
The pandemic is very hard to fathom, but Kawakubo has actually evoked loss and fear in several collections. I asked her how the consequences of the pandemic might affect the look of fashion, perhaps not immediately but later?
"I never imagined or expected this global situation we are facing right now would come about. It feels like what I have built in my life so far has vanished all at once, that I have to start all over again from scratch, but I don't have much time left to restore the loss. There isn't any other way, however, except to start working again in order to move forward. Having had such a terrible experience as this, people will most probably conform to live their lives within their boundaries, which would in a sense keep us from moving forward. And that is what I am worried about. To create fashion and art, we need a mind to do outrageous things, to be different from others, and to let yourself go."
I told her that many designers have expressed frustration with the "fashion system" — the crushing show schedule, the overproduction, etc. Yet this is not a problem she faces, because she has kept her independence and creative freedom. While designers like Alessandro Michele at Gucci are finding their way back to making and showing less, the team under Kawakubo has been repeating the same formula of two shows a year, taking wholesale orders, and making products. "In other words, we run a steady, well-grounded business," as Kawakubo put it.
"The fashion industry has derailed off its steady course because it has surrendered to the worship of money and been affected by the mass media, which is also controlled by Mammonism. The current situation is brought about as the result of having forgotten the value of taking time in making good things and how important it is to make new things. We must get back to our basics."
But basics for Kawakubo mean something slightly different. Her women's collections in recent years have been intentionally abstract. As she has described her garments, "Not an object of art but also not an item of clothing." I wondered, for her, what is the value of abstraction?
"We live in a time when diversity is more appreciated than ever. We must approve and find values in different styles and tastes: easy clothes one can wear without much thought, low-priced clothes, dresses that uplift the spirit, uniforms, poisonlike clothes, etc. [Kawakubo meant poison, or doku in Japanese; but her meaning here is something "very strong — much, much better than boring." So not necessarily bad.] I wish the media would fight hard against the worship of money and support diverse ideas and values."
She has no intention of making easy clothes. "I want to make clothes one must think about, search for, sympathize with, and struggle to wear."
At the same time, her men's collections are full of actual clothes — playful, progressive. In a 2017 interview, she noted that women have become more conservative and men are more expressive. She told me, "Young men today are full of energy. They try to express themselves through what they wear. They don't mind working extra hours to get money to buy the clothes they like. On the contrary, I am not so sure about women. I don't know whether they don't know what they want or they don't like to look strong. I feel frustrated with them. They think they can fight quietly? This trend surrounding today's women is not good for my business, either. I want them to express themselves through what they wear and fight against this world."
I asked her if she thought anger could ever be a force for change. "This world is full of injustice and absurdity. I put this energy of anger into creation. I get angry and work hard every day and night. That's the least of what I can do now."
*A version of this article appears in the August 31, 2020, issue of New York Magazine. Subscribe Now!