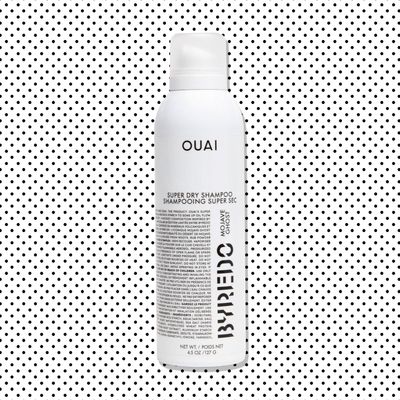 Most dry shampoos smell … fine. They don't smell bad, but they also don't smell particularly special or interesting. They're too busy doing their job: covering up the icky odor of unwashed hair. But Ouai's new dry shampoo smells exactly like an $180 bottle of perfume — specifically Byredo's Mojave Ghost.
Ouai's newest limited-edition dry shampoo came about when founder Jen Atkin slid into Byredo's Ben Gorham's Instagram DMs. The result is quite possibly the best-smelling dry shampoo ever made. Unlike the baby-powder or chemical-fruity scents of most dry shampoos, this smells like a Joshua Tree sunset overlooking an infinity pool. It also smells like the aroma that I used to notice everywhere right before the pandemic — at coffee shops in SoHo, the pool at Dumbo House, and in hugs with makeup artists and hair stylists. (It seemed to be replacing Santal 33.)
Compared to my heavy-duty dry shampoos, I do need a few more extra sprays of this dry shampoo/hair perfume combination to completely soak up the grease at my roots, but I don't mind because of the excellent smell. Just don't forget to brush it through your hair after spraying, or it'll make your hair George Washington white.